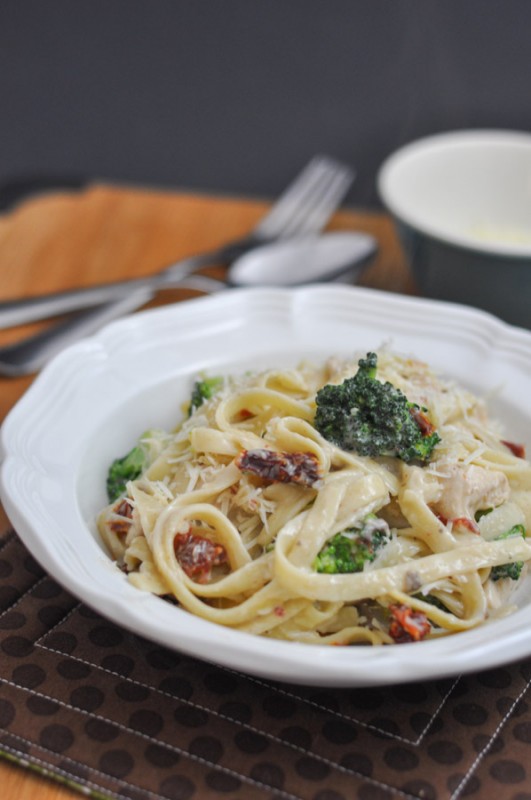 This holiday season, we've been doing a lot of vegging.
We make dents in the couch; we have friends over and have nice evenings of games and glasses of wine; the girls colour on the table while Mr. Suburble and I watch marathons of The Big Bang Theory.
We are a plethora of energy here.
But when we have these days, it's nice to be able to make a quick and delicious meal while still keeping up the "vegging" atmosphere. Since I've started working with Campbell's, it's been so nice to have an arsenal of recipes to whip up on those days where you want things to be easy.
Chicken Alfredo with Broccoli and Sun Dried Tomatoes
Ingredients
10 oz (284 g) fettuccini
3 cups (750 mL) broccoli florets
2 tbsp (30 mL) butter
4 (750 g) boneless, skinless chicken breasts, cubed
1/4 tsp (1 mL) salt and ground black pepper (each)
3 cloves garlic, minced
1 can (284 mL) CAMPBELL'S® Condensed Low Fat Cream of Chicken Soup
1/2 cup (125 mL) 1% milk
1/3 cup (80 mL) sundried tomatoes, chopped
2 tbsp (30 mL) fresh basil, chopped
1/4 cup (60 mL) parmesan cheese, grated
Instructions
1. Cook fettuccini according to package directions. Add the broccoli during the last 2 minutes of cooking. Drain and set aside.
2. Meanwhile, heat butter in a large skillet over medium-high heat. Season chicken with salt and pepper. Cook, stirring often, for 5 minutes or until golden brown. Add garlic and cook for 1 minute or until fragrant.
3. Add soup, milk and fettuccini with broccoli. Cook, stirring often, until heated through. Stir in sundried tomatoes and basil. Serve with parmesan cheese.
https://www.suburble.com/2015/01/chicken-alfredo-sun-dried-tomatoes-broccoli.html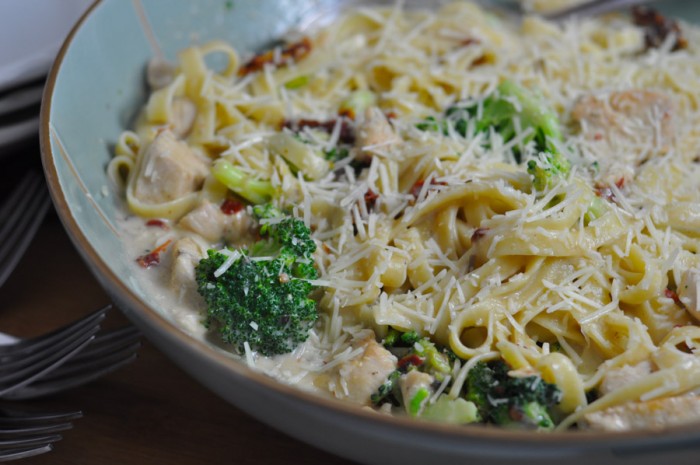 This meal can be tossed into a big bowl and served family-style at the table.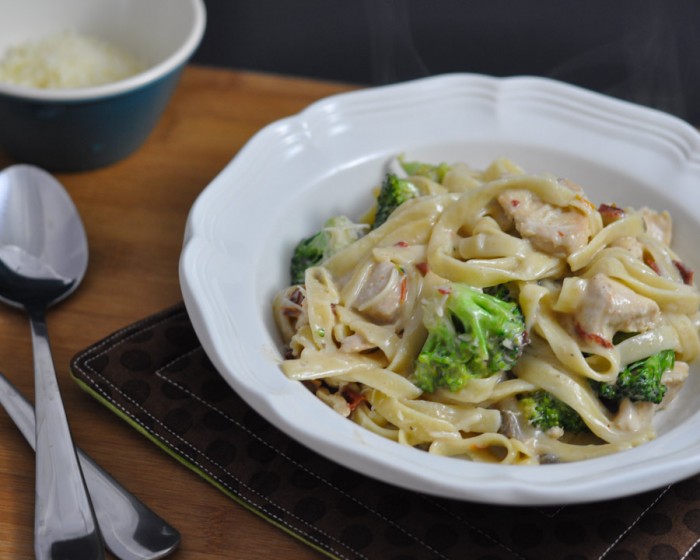 Or you can plate it with parmesan on the side.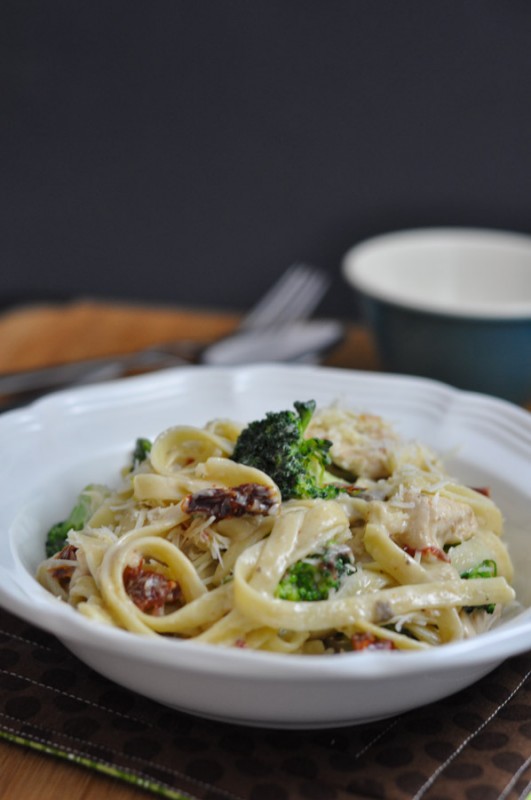 The sun dried tomatoes add a lovely tang to this recipe, while the alfredo sauce and noodles are comforting and filling. Like all Campbell's recipes, this chicken alfredo is simple to make, and easy to love.
Nothing caps off a day of laziness than a hearty helping of comfort food.
What do you like to eat when you're having a sloth-like day? Do you go for comfort food like I do?