So, it's 2015. I didn't even have the organizational oomph to write this post in 2014, so I'm writing it on New Year's Day.
Despite my best intentions, the dawning of the new year always causes me to think about resolutions. I don't really WANT to make resolutions. They're just promises that I make to myself with the not-so-conscious intention of breaking them before February.
But there are some things I'd like get done this year.
Yes, I want the regular one-size-fits-all resolutions: to be skinnier, save more money, have an insanely organized office and make my family's bread with my own hands for $.25 a day.
Of course I'll still make those resolutions. Whether they happen or not? Pffft… anybody's guess.
But I look at how much has happened in 2014, and I think, "Man. This was all within one year?"
2014 year was wild and exciting and exhausting. What should we plan to do next?
We started the year by selling our house. Our little crooked house with our blood, sweat, and money wrapped up into its walls – became someone else's home.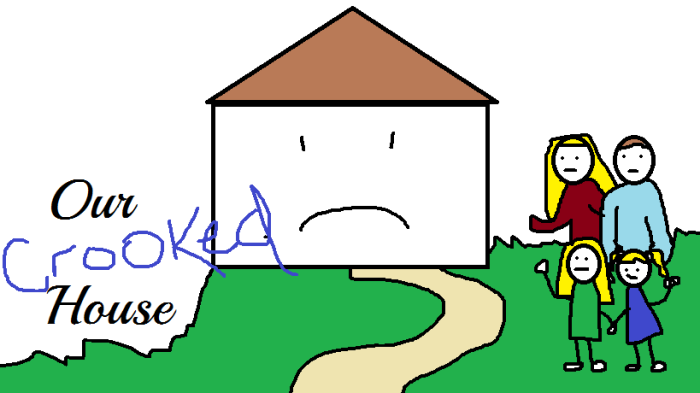 And we moved into my sister-and-brother-in-law's house. For six months, we lived in their basement suite, and I continued to blog. During those months, we purchased and did the major renovations in our house.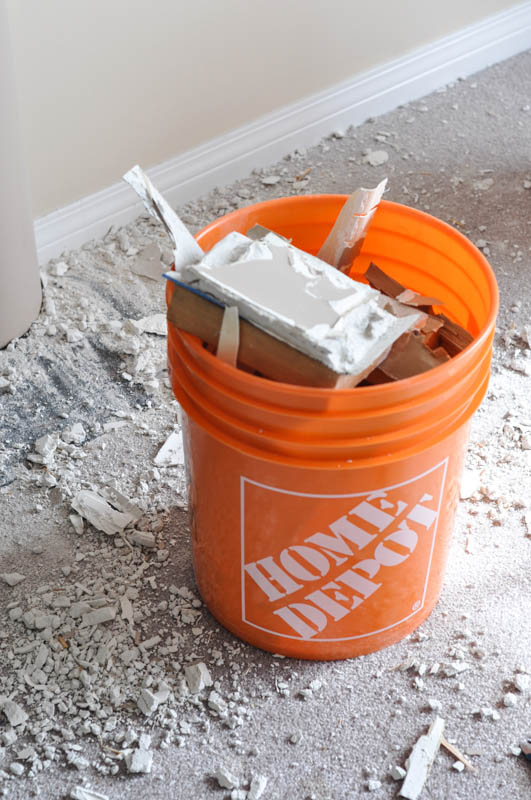 Life was exciting, and hectic, and stressful…. and expensive.
In my idealistic and naive world, I thought that I would be doing the lion's share of the work on the house alongside Mr. Suburble. We'd be those people with matching tool belts and white tank tops. We'd give each other sly smiles as we patched our own drywall and painted our own vaulted ceilings.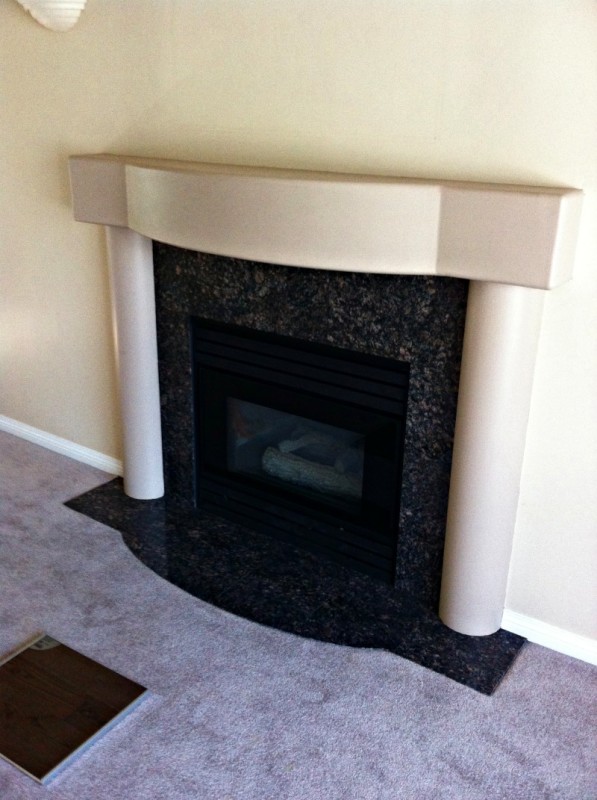 But that dream quickly went up in a poof of demolition dust. We realized that our skill set was much more suited for smaller projects, not entire houses. And if we were going to ever move into this house and make it a home – a home that wouldn't crumble down around us – we had to get real.
I can paint. I can use quite a few power tools.
But I cannot drywall.
I am not a wizard.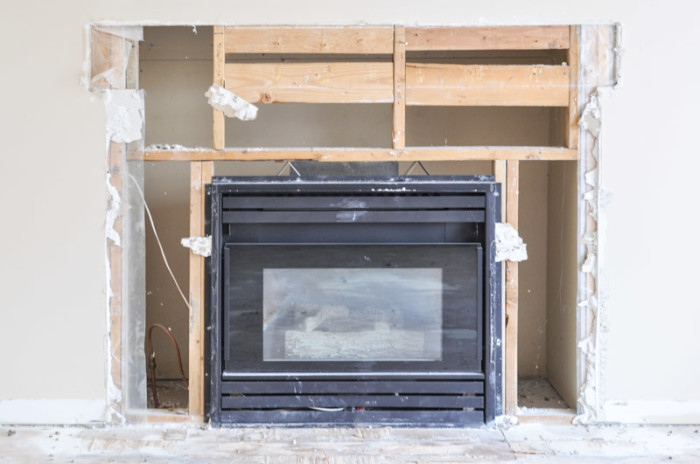 I can get it to pre-drywall stage, though.
Demolition was where we flexed our muscles. Construction was where we flexed our connections and our wallets.
We need the work done, and we needed it done in a matter of months.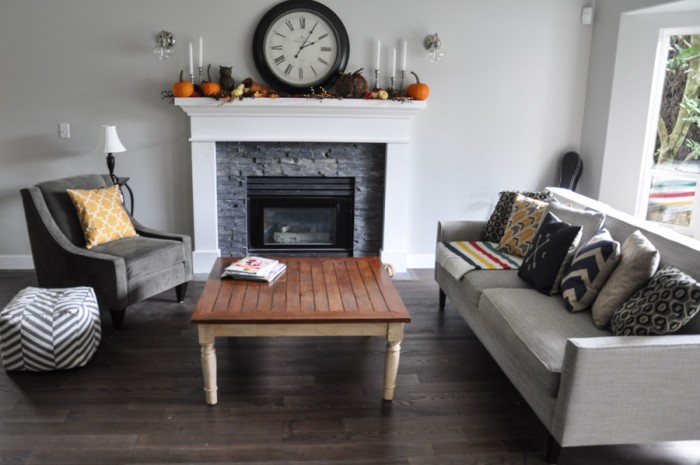 I'm very proud of the partnerships that we've cultivated this year. We worked with DRIcore on our basement and created 1000 sq feet of finished space for our family and guests to enjoy. Mr. Suburble and I put most of our personal "sweat equity" hours into our basement. From jackhammering up the slab for our bathroom, to laying the subfloor and putting up walls – that basement was our own personal project.
I wrote about what we did right, and what I would have changed about this project right here.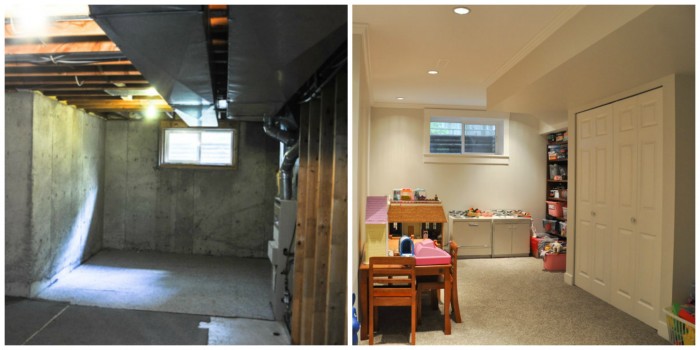 We've lived in our house for just over three months now, and with each week, the kids get more comfortable with the idea of bombing downstairs and playing in the playroom sans parents.
Freedom is close. I can taste it.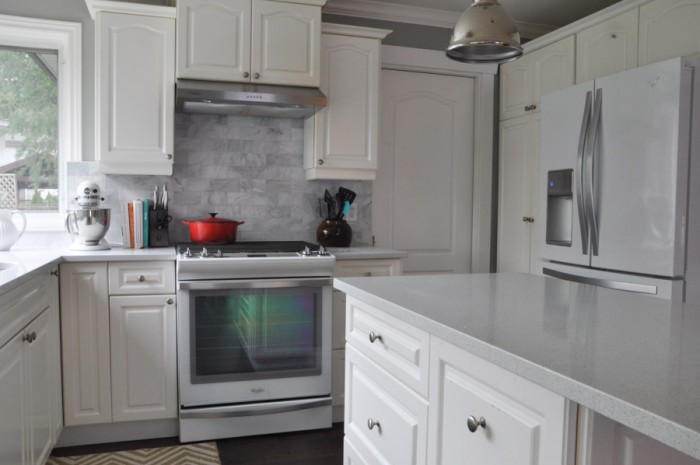 We renovated our kitchen, but with a budget-conscious approach.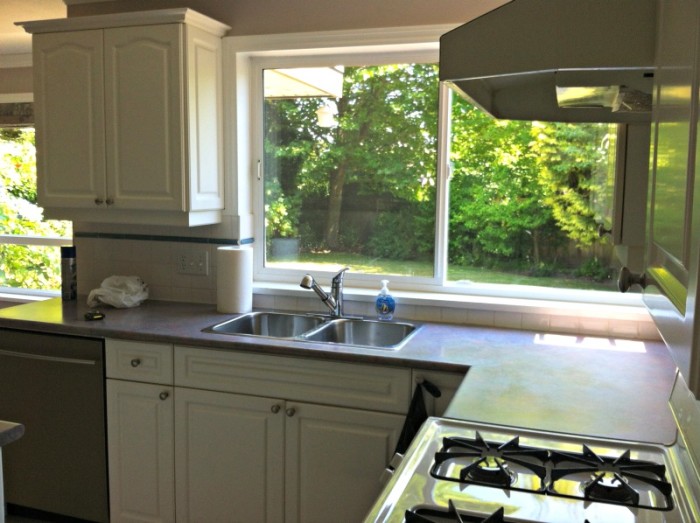 Our original kitchen had purple laminate counters and tired appliances. But it was a white kitchen.
I couldn't throw out a white kitchen.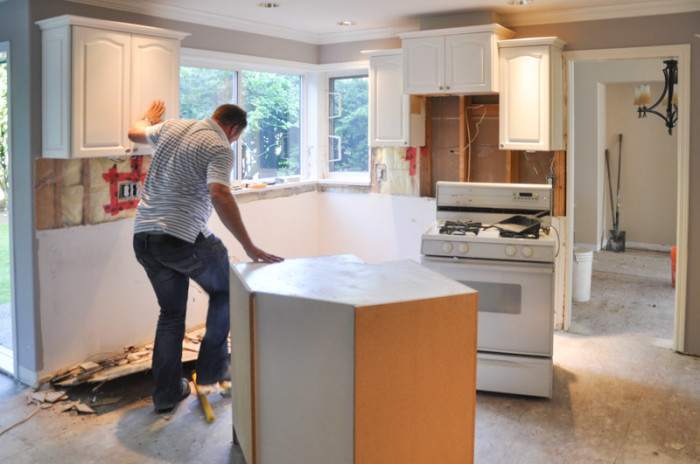 Saving the cupboards was a huge money-saver for us.
Yes, it was a giant pain in the ass to move the bottom cupboards all over the main floor while we renovated around them.
Thankfully, there is a certain amount of renovation amnesia that happens once you've swept up the last of the drywall dust.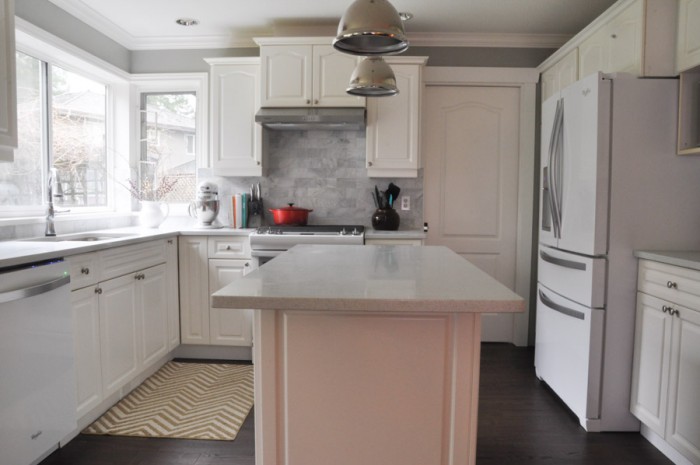 I barely remember that big pile of cabinets and the sighs of drywallers and painters as they maneuvered around our chaos.
And we are so thrilled that we kept the cupboards. We partnered with Whirlpool Canada, and outfitted our kitchen with the White Ice line of appliances. The white appliances worked perfectly with our still-white kitchen.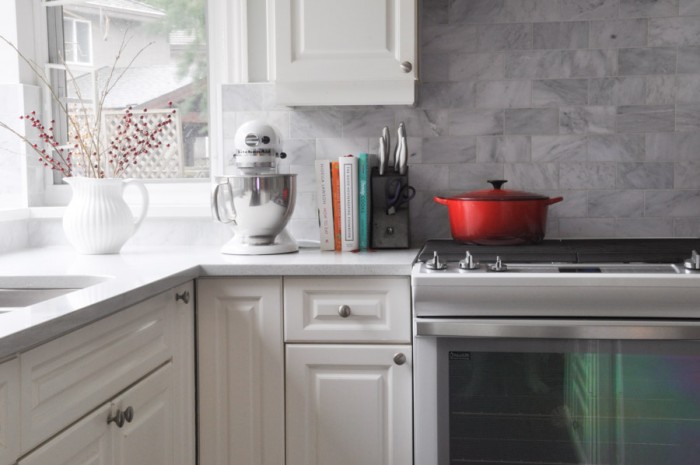 And I got my gas range. This was huge. Having a gas range has been a dream realized for me.
But there are still heaps of projects left to be conquered in our house. An overwhelming list, actually.
– Organize the garage
– Make the Craft Room a more productive (and less scarily-cluttered) place
– Decorate and unpack the Master Bedroom
– Decorate Lila and Lucy's rooms
– Find and paint a sideboard for the dining room
– Window coverings. (We desperately need them.)
– Build raised garden beds and actually grow things in them
– Put art on the walls (whether we find, buy, or create it)
But even with that to-do list looming over my head, I want to keep having fun with creativity.
I want to do more of this: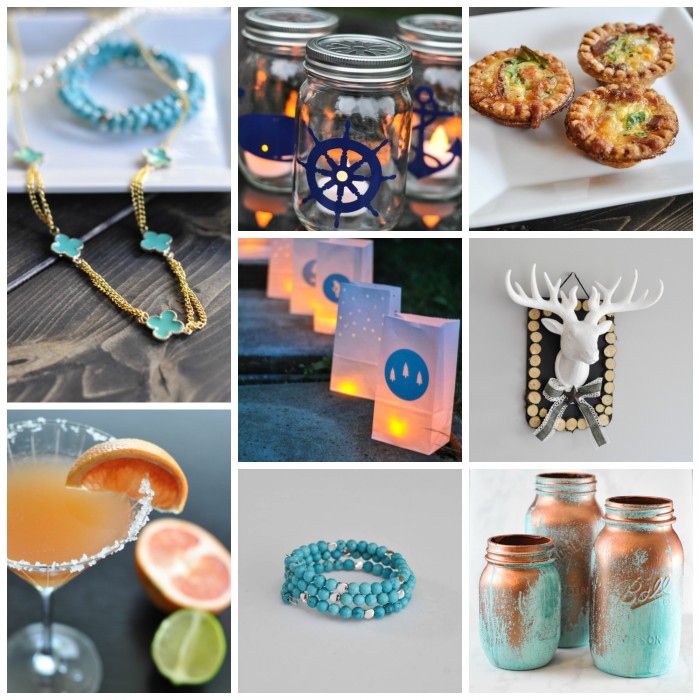 (from left to right) The Clover Necklace – Nautical Mason Jars – Mini Quiches – Camping Luminaries – The Walmart Stag – A Hacked Greyhound Martini – Memory Wire Bracelets – The Faux Patina Mason Jars
And this:

My tomato cage chandelier was in GreenCraft Magazine. Yeah, no lie. I was actually published on paper that was bound and then sent to people.
It was a bucket-list moment.
This past year has brought me some huge projects, and this blog has had its most successful months since it was "born" two years ago.
I want to keep my kids involved in my projects, despite the fact that the school day is making time much more precious and children much less patient. Exhaustion is a very real thing if you're 5 years old and in school all day. Despite this, the girls are both so hungry to craft and cook and be my shadow. I want to continue to take advantage of this.
I'm sure that before long, they'll be sighing exasperatedly at me and moaning, "Moooo-oooom….. I don't WANT to help!"
There are still things I want to learn to do. And life skills I need to practice (like consciously being organized – I tend to react, rather than be proactive…. hence, piles of crap left on the stairs that I walk past on a regular basis)….
And I need to learn how to use this confounded sewing machine. We're just getting to be acquaintances, but I think she talks behind my back.
So… I guess the conclusion of this post is: I don't have a concrete resolution. I just want to keep trucking along, and get better with practice.
And I will continue to make my house a home. It's a long road, and a lot of decisions….
But we're getting there.
Happy New Year, my dear friends. May your resolutions (whether they are concrete or much more vague – like mine) come true!