Huge thanks to Home Depot Canada for working with us during our renovation. As always, all opinions and sarcastic shots at my husband are my own.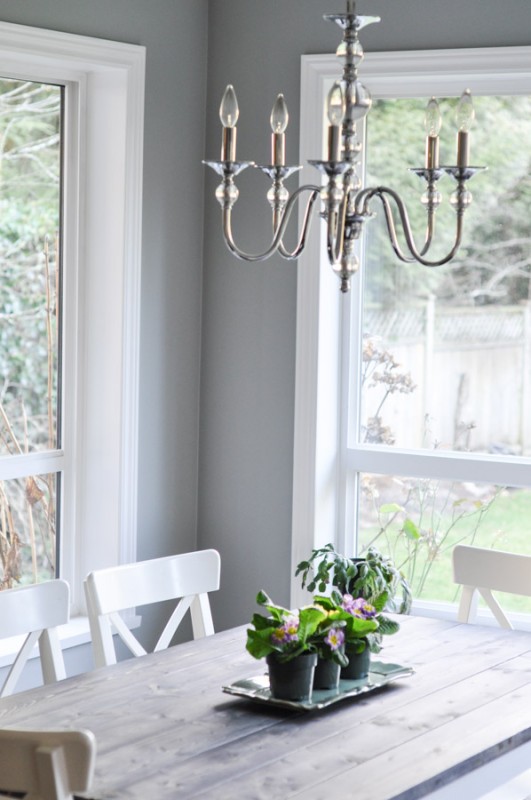 Once upon a 1996, this nook was decorated a little differently.
The cool greys and white chairs were instead warmer blush tones. The floor was tiled, and the window coverings were heavy.
There WERE window coverings, so that's a big difference. Sigh. This year, I promise you, there will be a post about window coverings. We're currently four goldfish in a very large bowl.
There was also a light fixture that lived here. It was a unique piece. And by "unique", I mean…. metal ivy leaves crawling up the chandelier wires and reaching for the ceiling.
Also – there was sponge paint.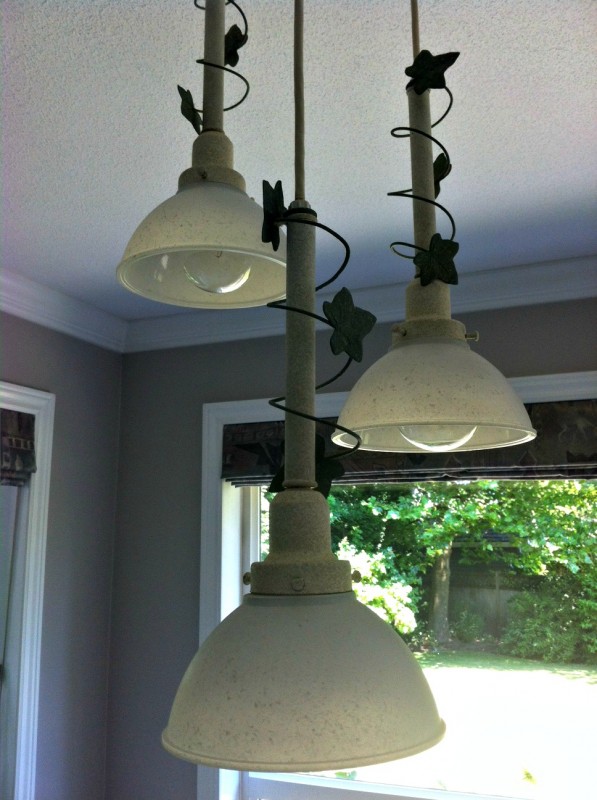 In 1996, Mr. Ivy Light was probably the height in home decor trends. I'm pretty sure that during this time period, my parents' new build had pink countertops and blue-grey tile. Pastels and invasive plants were SO in.
But now…..?!?!
I've already written about the impact of lighting in our space. I also wrote about how lighting can easily break the renovation bank. Mr. Suburble is still incredulous at some of the prices I showed him at the lighting store.
"For a LIGHT!?!?"
Yes, dear. For a light. Tell me again how much a golf club costs!?!?
This is why I was so excited to find a chandelier that I LOVED at Home Depot. This 5-light chrome chandy (with a bit of crystal-look to the orbs) jumped out at me when I walked past the in-store display. And it was well under $200.
When we installed it, I fell even more in love.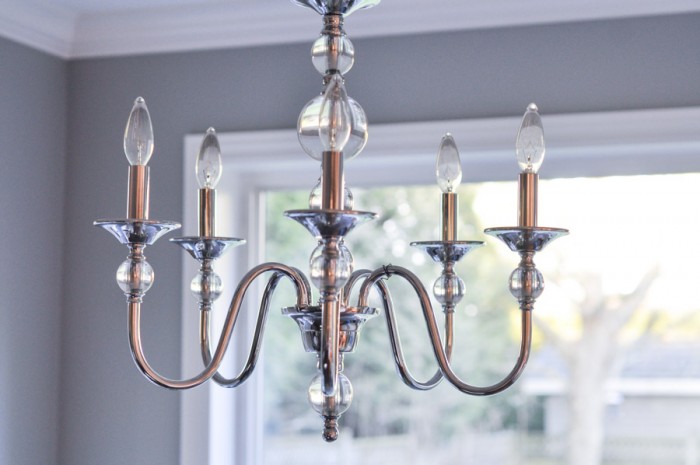 I love the chrome. I was debating how much impact I wanted over the kitchen table, but this seems just right. It's slightly feminine – but also cool in tone.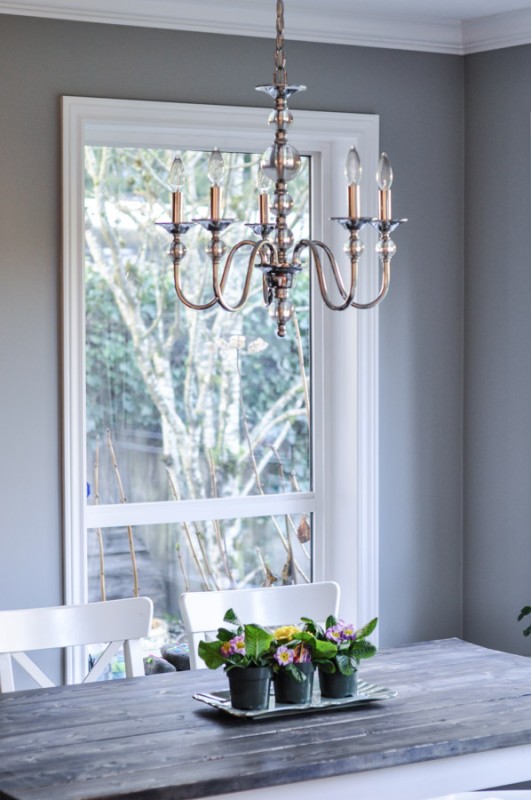 I think it's the perfect addition to the nook – and to hang over our rustic table.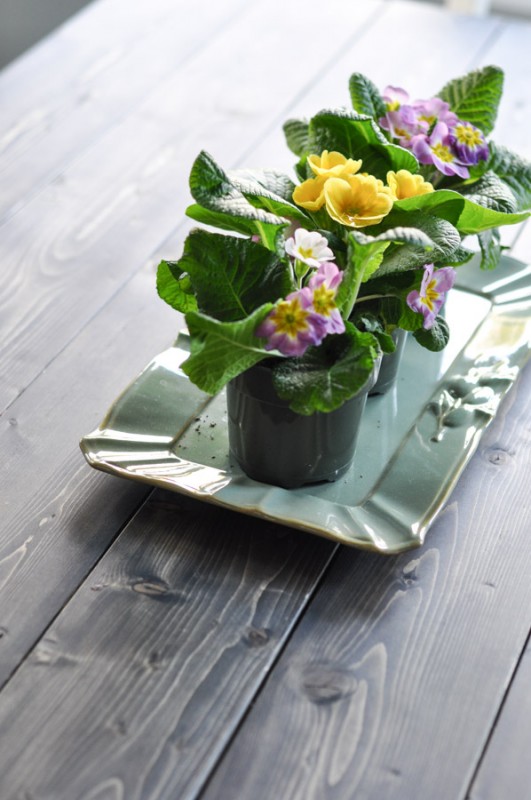 The 90s have left the building – well, they've left the kitchen… there are some indelible marks that will continue to live in this house – and our nook is a cozy and welcoming spot to be in. It works perfectly with the rest of the space.
I wonder when someone will cluck and say, "That's SOOOOO 2015. I can't wait to sponge paint this place back into style."
_____________________________________________________
Check out more of the work we've been doing 'round these parts: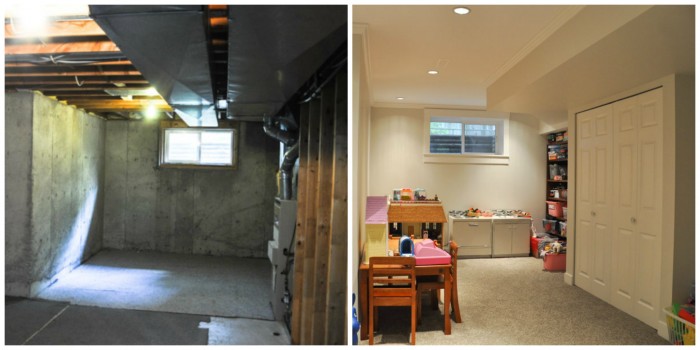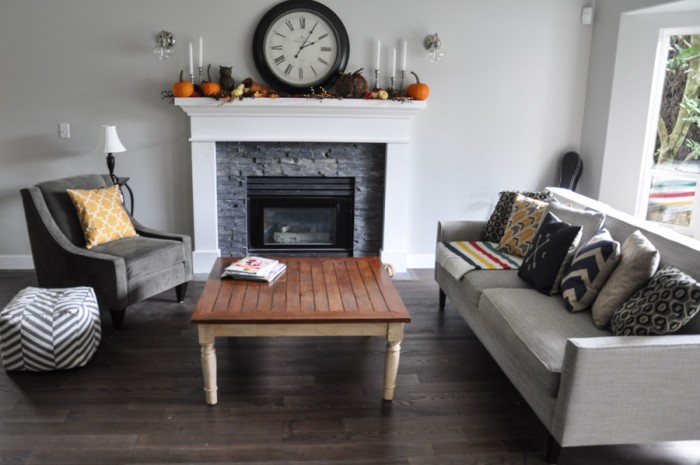 The Living Room (A Work In Progress)