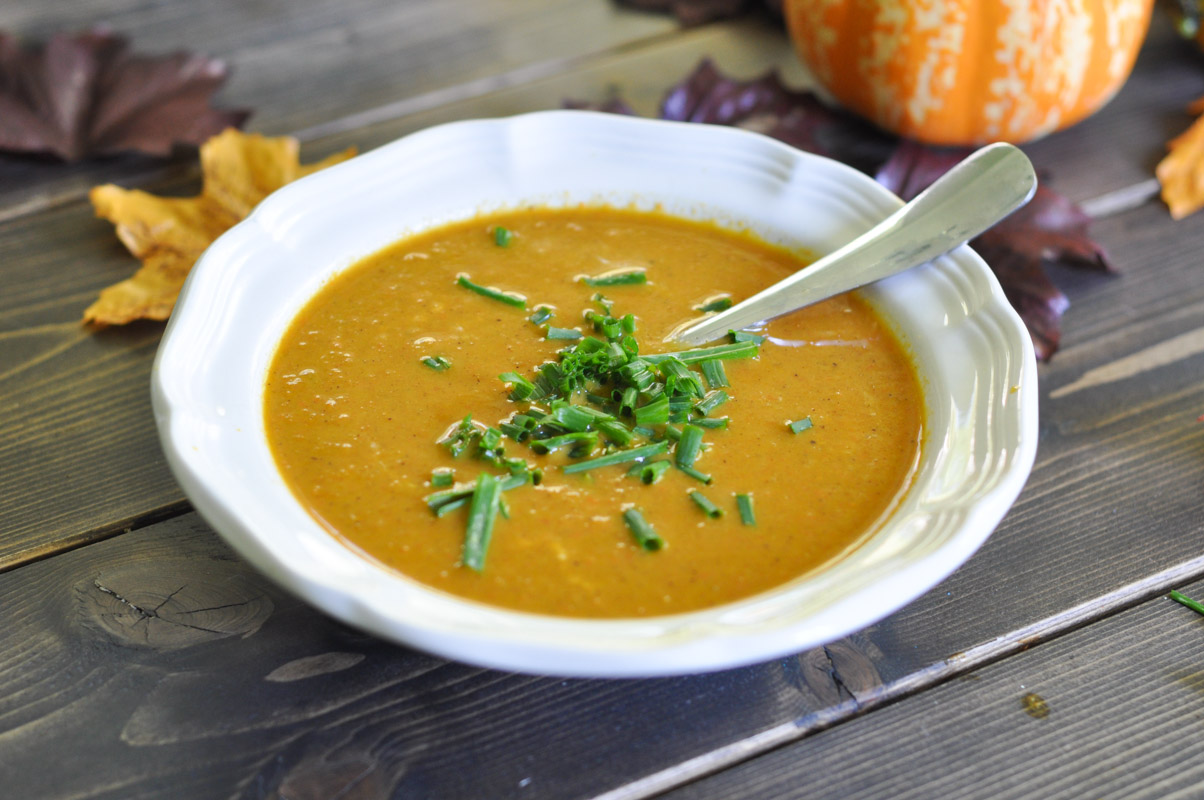 Okay – so the first thing I have to say is: this soup is delicious.
It's beyond easy, and is very tasty. The sweetness of the carrots works with the Patak's Hot Curry paste, and makes for a really satisfying soup.
Whether it's a lunch, a starter, or a dinner – I'm thinking this soup is a winner.
What is NOT a winner? My soup decorating skills.
They fail. Bigtime.
The group of Patak's Ambassadors were challenged to make our September meals a bit "Halloweeny". I scoffed. I'll just put a little "decor" on top of my soup. It'll be awesome.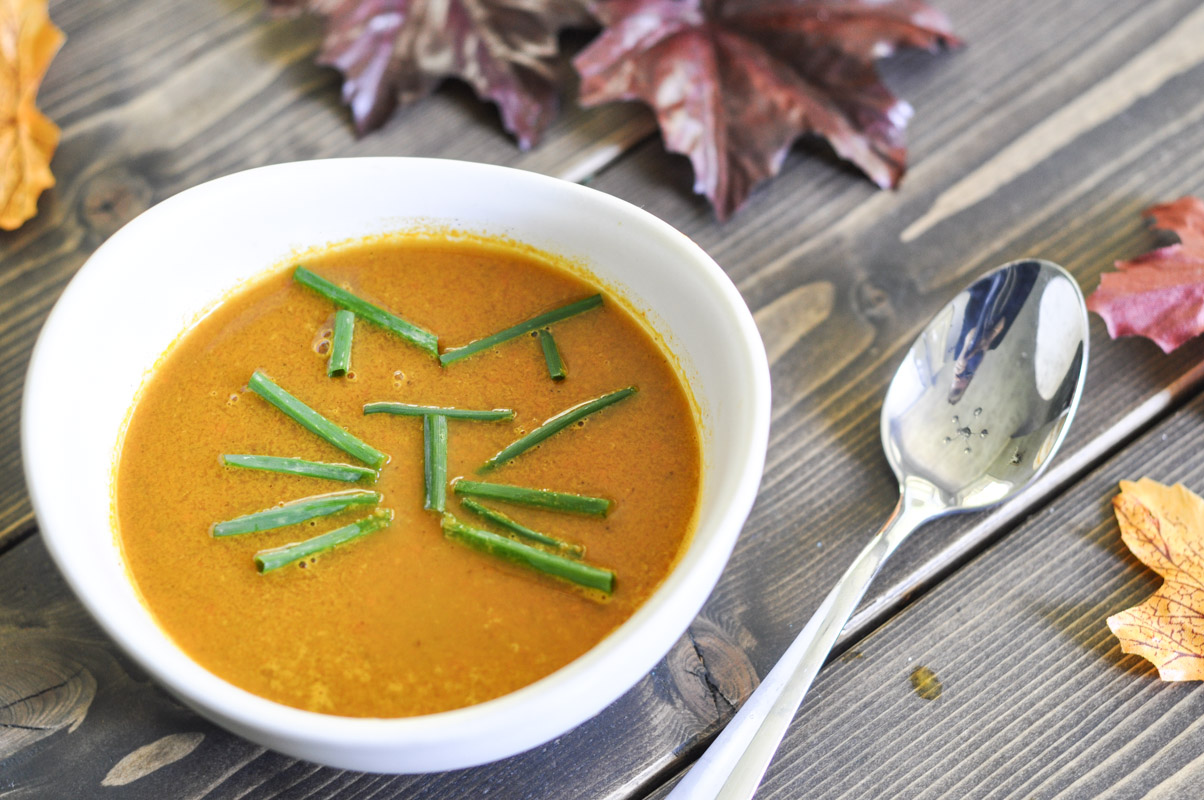 Like this cat made of chives.
Errrm… or… does it even look like a cat? It looks furious, whatever it is.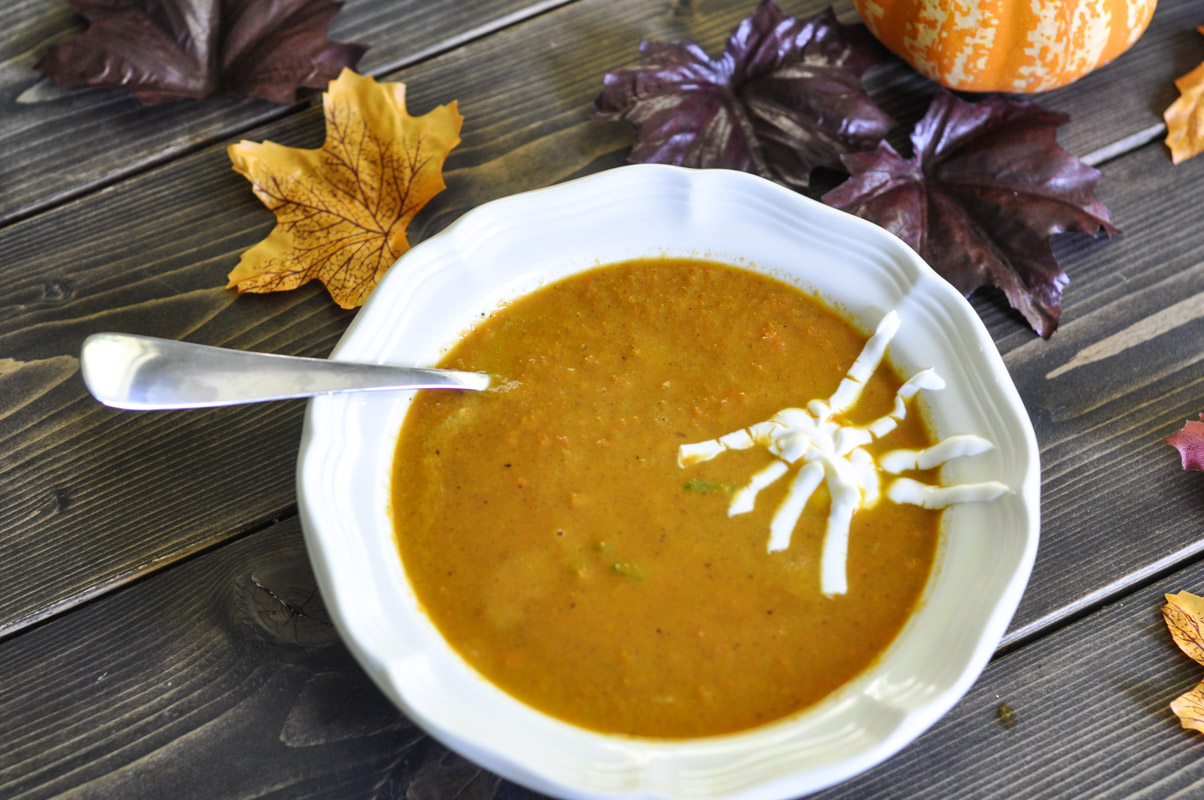 Then I put sour cream into a bag and cut off the tip.
Annnddd… voila! A broken-legged spider.
You're terrified, right?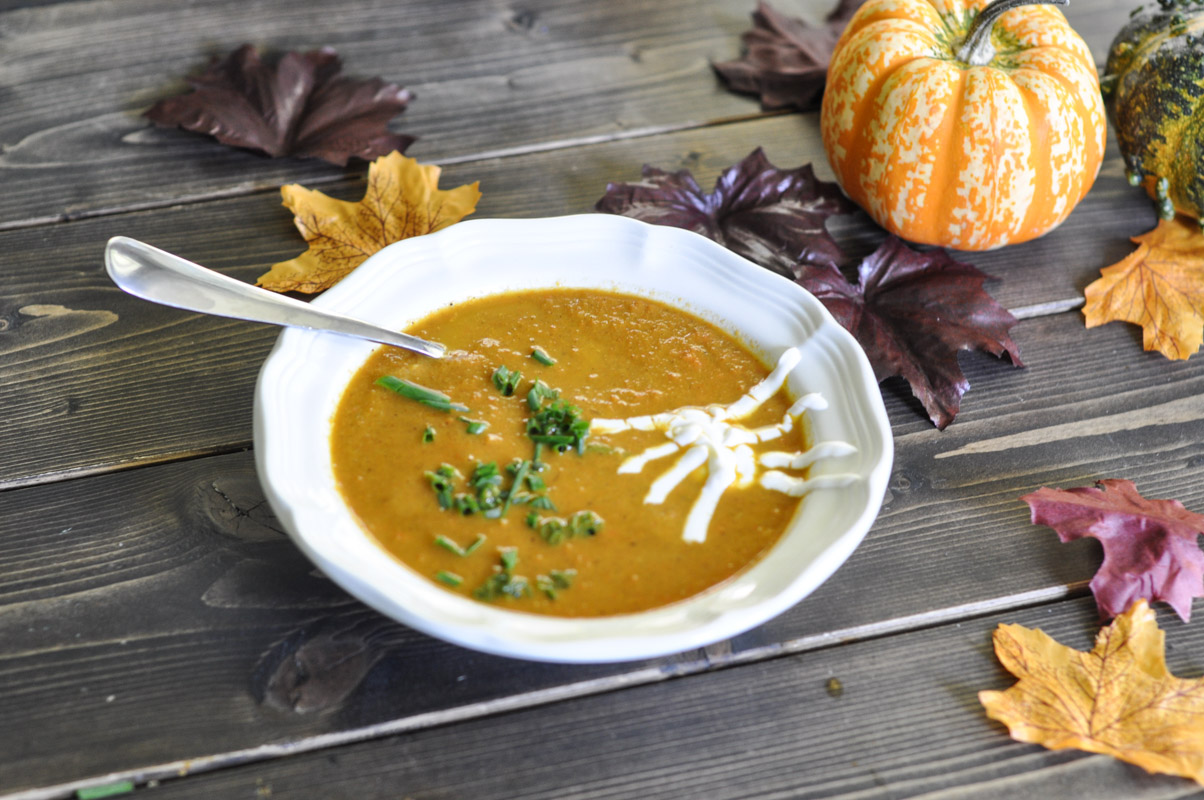 Give him some chives… and then…. weep.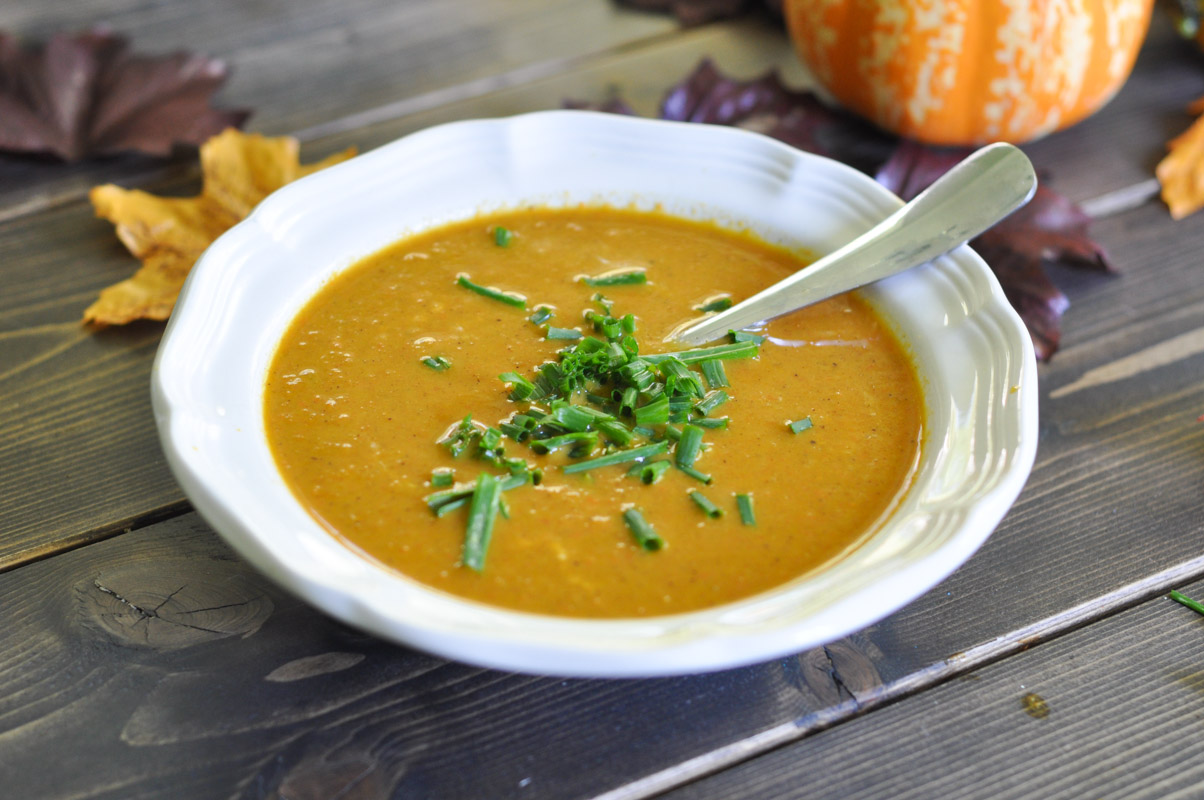 It turns out I am just no good at playing with my food, guys. Ugh. I need to take a cake decorating class or maybe buy some fake spiders and chuck them on top of my soup.
But until then, I still have a recipe to share. A really good one.
Curried Carrot Soup And My Failure At "Soup Decor"
Ingredients
1 tetra pack (900 ml) of vegetable stock
1 tbsp olive oil
1 tbsp Patak's Hot Curry Paste
1 medium onion, diced
6 medium carrots, peeled and thinly chopped
1 pinch of kosher salt
Sour cream and chives to garnish
Instructions
In a large saucepan, heat the oil and paste over medium heat until fragrant
Add onions and carrots and saute for 5 minutes until getting soft
Add stock and simmer for 20 minutes or until carrots are easily pierced by a fork
Using an immersion blender, blend the soup until desired consistency
Garnish as desired with sour cream and chives
https://www.suburble.com/2015/09/curried-carrot-soup-and-my-failure-at-soup-decor.html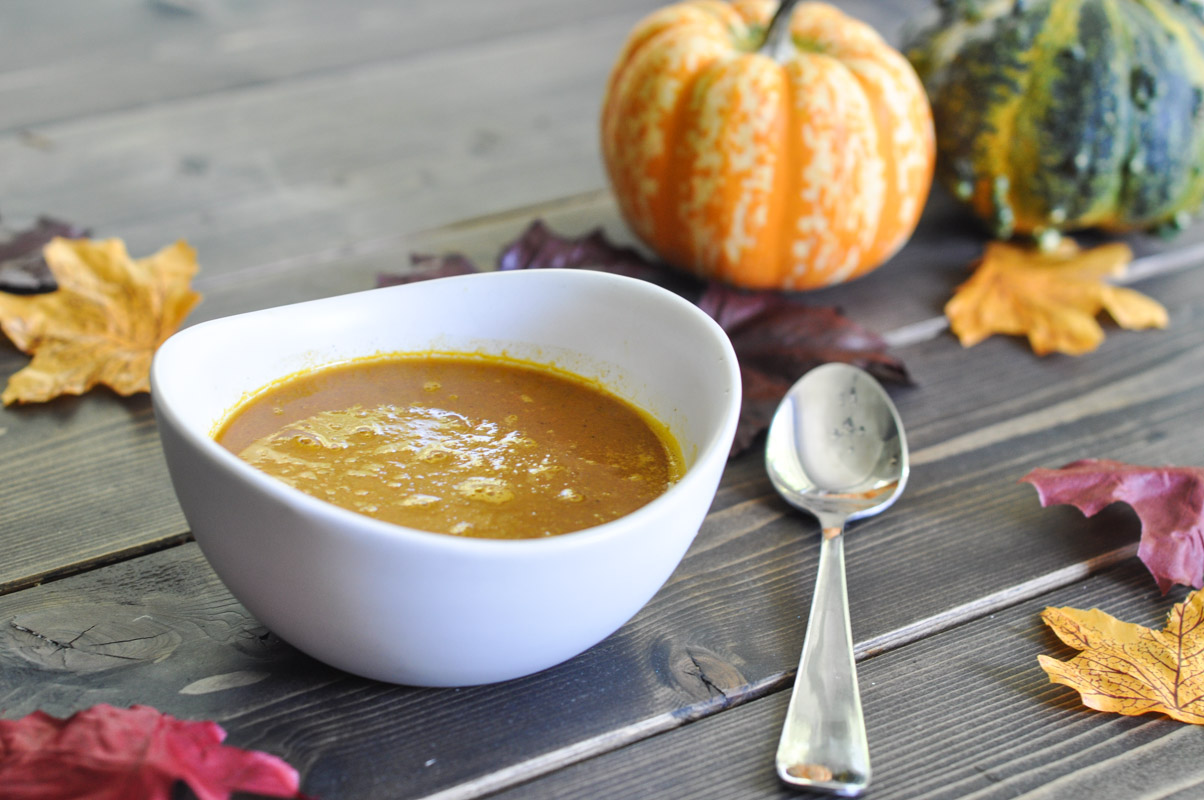 This simple soup is a crowd pleaser, and doesn't use many ingredients. If you are like me, and often buy a bag of carrots and then think, "How am I going to use these babies up?" keep this recipe in your back pocket. It's a great "crisper-clearer".
And if you figure out how to garnish it in a spooky way, let me know. Just no sour cream in baggies, please!
Looking for more ways to add spice to your meals? Visit Pataks: on the web, on Facebook, onTwitter, and on Tumblr.
I am part of the Patak's Canada ambassador program and I receive special perks as part of my affiliation with this group. The opinions on this blog are my own.