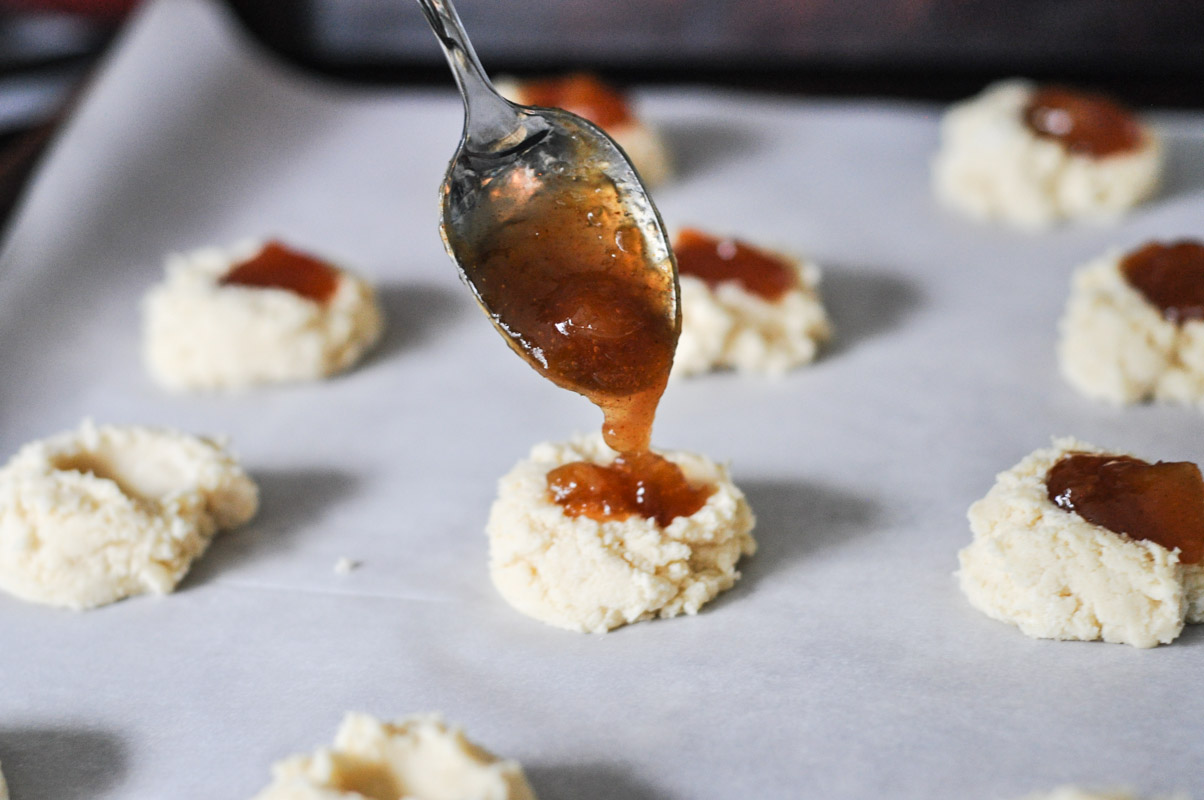 I love thumbprint cookies. Aside from the satisfying squish of making an indent in the middle of the cookie dough, I feel like these cookies are the cheater version of tarts.
I don't have to make pastry, and I still get to use filling. It's a double-win.
This month, we Patak's ambassadors were challenged to use chutney in a recipe. I've already used it in chili and in dip, but because we're right smack dab in the middle of the Season of Infinite Baking, I thought about adding it to a Christmas cookie.
A thumbprint cookie.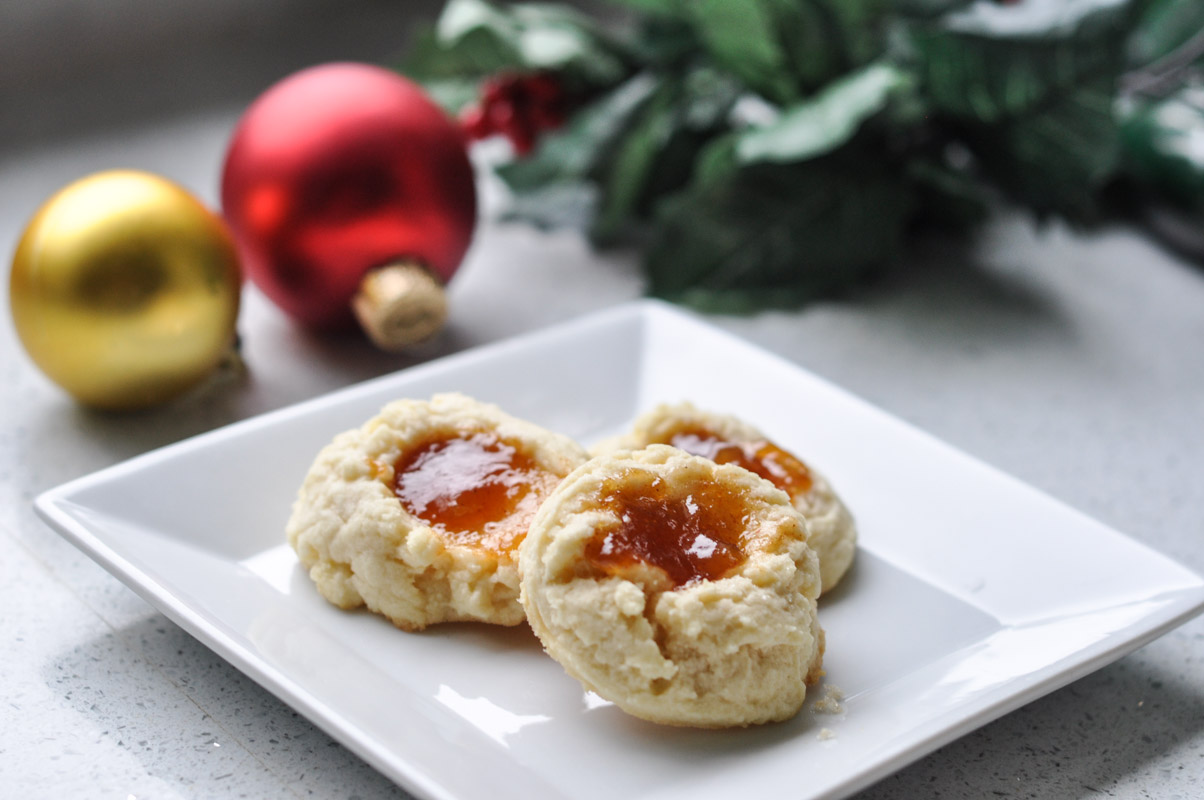 This recipe is beyond simple – it's one that the kidlets can help you with. You can decide what chutney you want to use. Mango Chutney is a popular one, but Major Grey is my favourite.
Chutney is not as sweet as jam, but instead has a richer, more complex taste. It creates an almost savoury cookie – which is a nice change.
Mango Chutney Thumbprint Cookies
Ingredients
1 3/4 cups flour
1/2 tsp baking powder
1/2 tsp salt
3/4 cup softened butter
2/3 cup sugar
1 large egg
1 tsp vanilla
1 jar of Patak's Mango or Major Grey Chutney
Instructions
Preheat the oven to 350 degrees and line two baking sheets with parchment paper
In a bowl, sift the dry ingedients together
In a stand mixer, cream the butter and the sugar until fluffy
Add egg and vanilla and combine
Add the dry ingredients and mix until just combined
Using a cookie scoop or two spoons, drop 1" rounded balls onto cookie sheet and make a "thumbprint" in each one
Scoop a small amount of chutney and place into each thumbprint
Bake for 9-10 minutes, until cookies are

just

browning at the edges
Let cool for five minutes and then place onto cooling rack
Enjoy!
https://www.suburble.com/2015/12/mango-chutney-thumbprint-cookies.html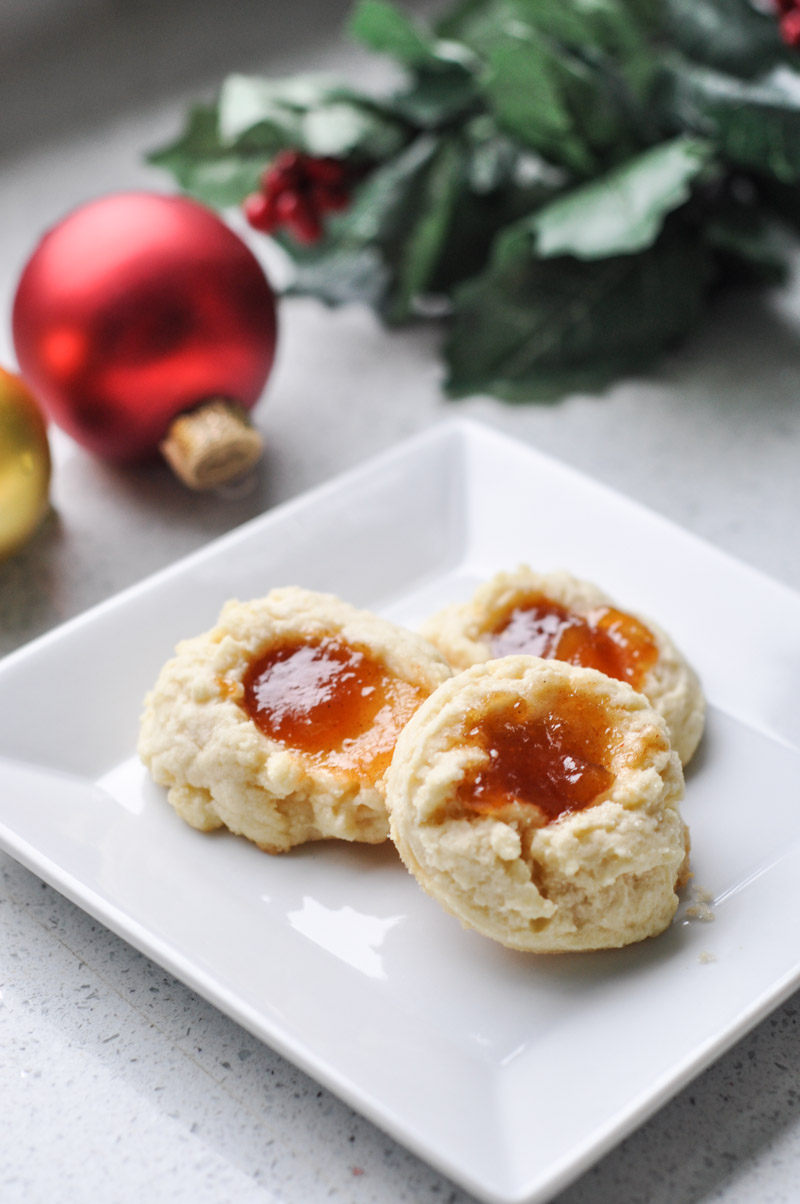 If you're looking for a twist on an old-favourite – or if you love chutney – try these quick and easy little cookies.
They're a tasty way to add some Indian flavour to your holiday spread!
Connect with Patak's Canada on Facebook and Twitter.
Disclosure: I am part of The Cultured Kitchen Ambassador program in partnership with Patak's Canada and Blue Dragon Canada and I receive special perks as part of my affiliation with this group. The opinions on this blog are my own.