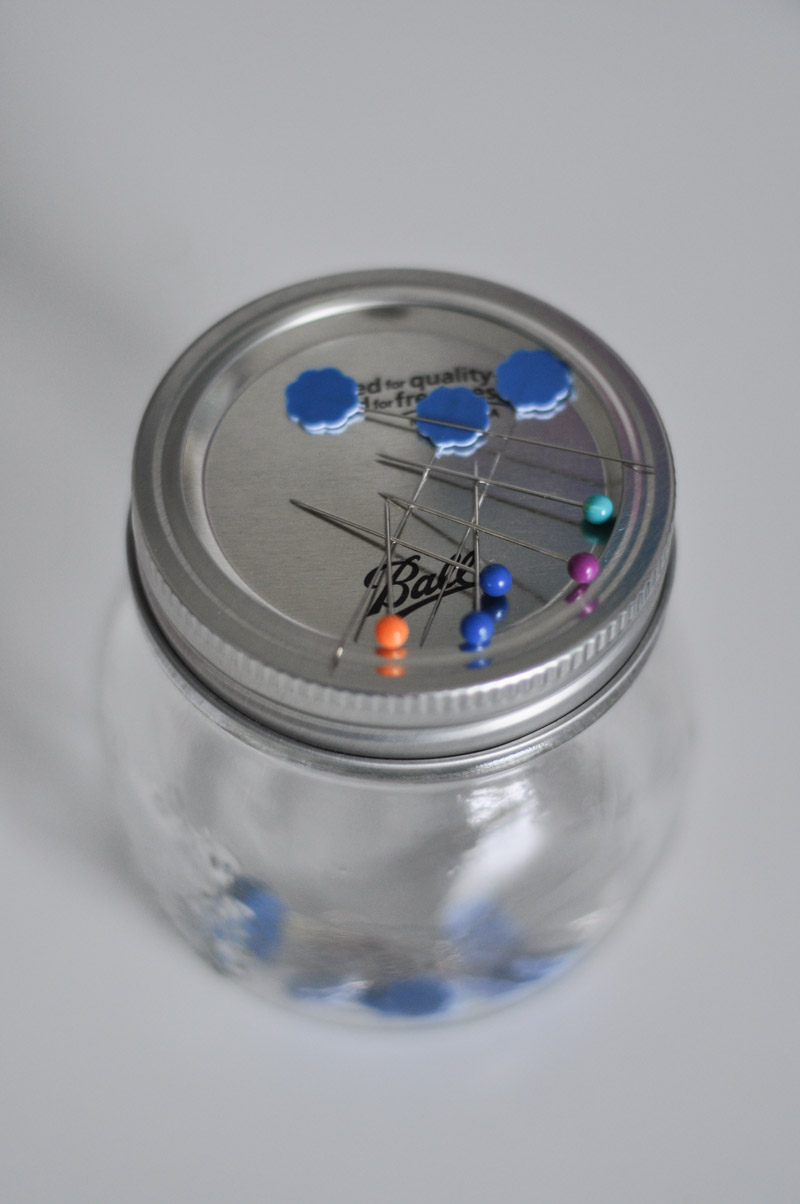 Are you sick to death of me talking about sewing and quilting?
No? Okay, good. My Learning How to Quilt Adventure is still happening, which means this topic is very much swirling around my brain.
I've been working on this quilt top for four weeks now, and this time spent in class – in a well-stocked quilt shop – has opened my eyes to the world that is notions. There are so many do-dads and gadgets and rulers that make your life immensely easier when making a quilt.
They're also fairly pricey, as all niche-related items are.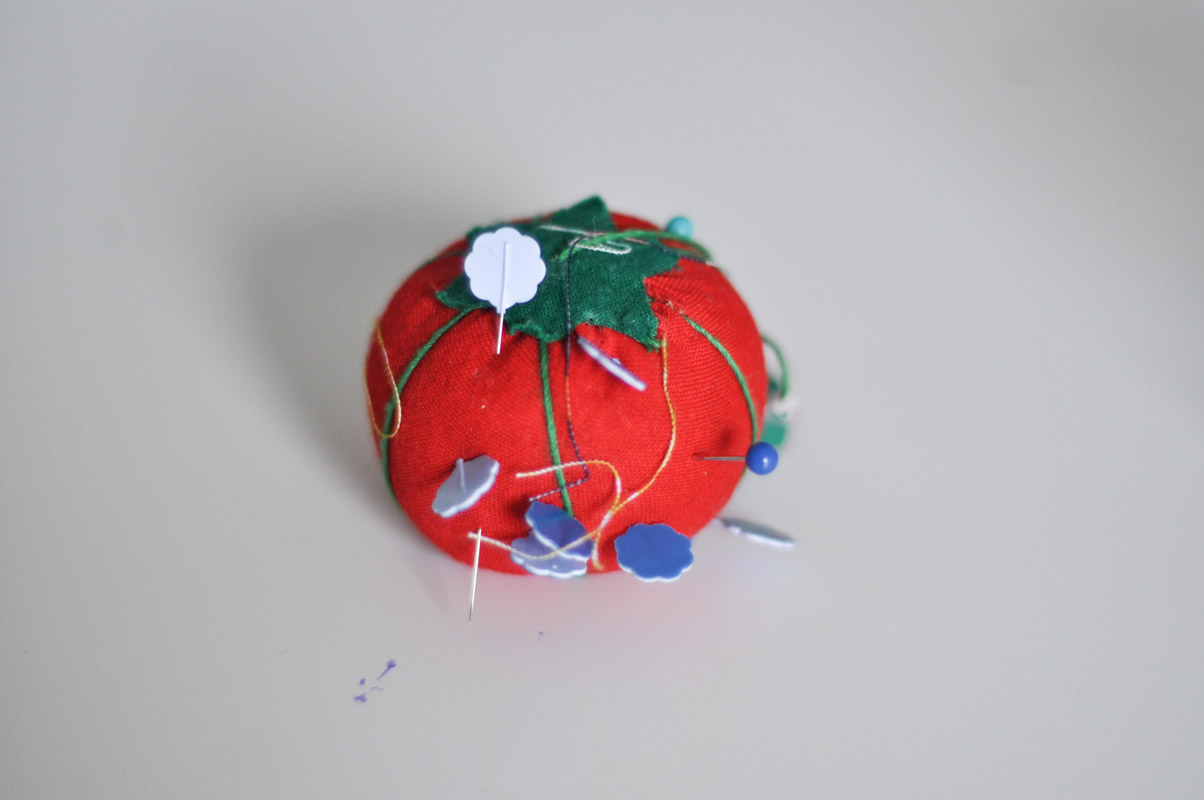 My biggest quilting dilemma – aside from sewing a straight line and learning how to measure twice and cut once – was this.
This was my ugly, dollar-store, had-it-since-I-was-a-teenager, uglier-than-anything tomato pin cushion. It's small and horrible and is a huge pain in the ass when you're trying to hurriedly remove pins, but not send them flying across your sewing table.
I coveted the magnetic pin holder/dish thingamajig that a fellow classmate had. It sat smugly on her table, holding all of the pins in place, and didn't seem to be bursting or sad about its job.
But, again, I've already used up my quilting budget for the month the year, so I just couldn't bring myself to buy it.
I had a feeling that I could make one at home. With stuff I had.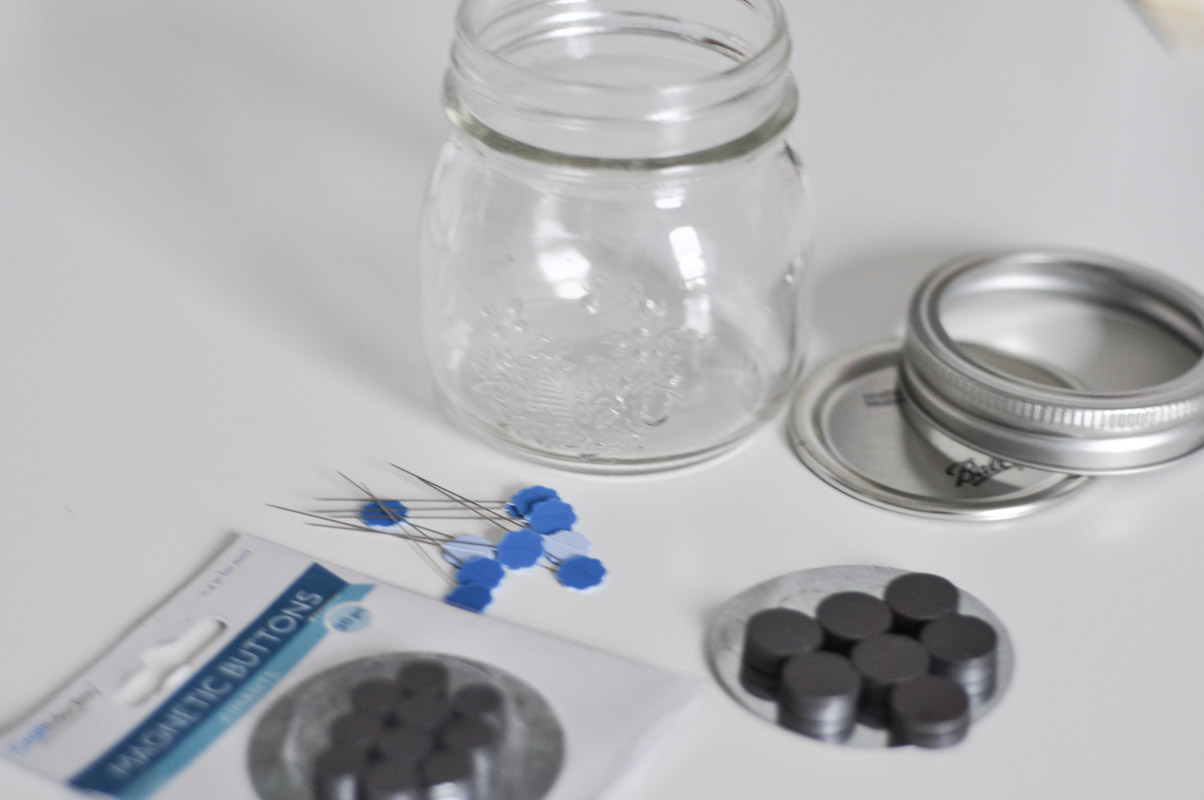 I grabbed a little jam jar, a lid and ring duo, and a package of magnets.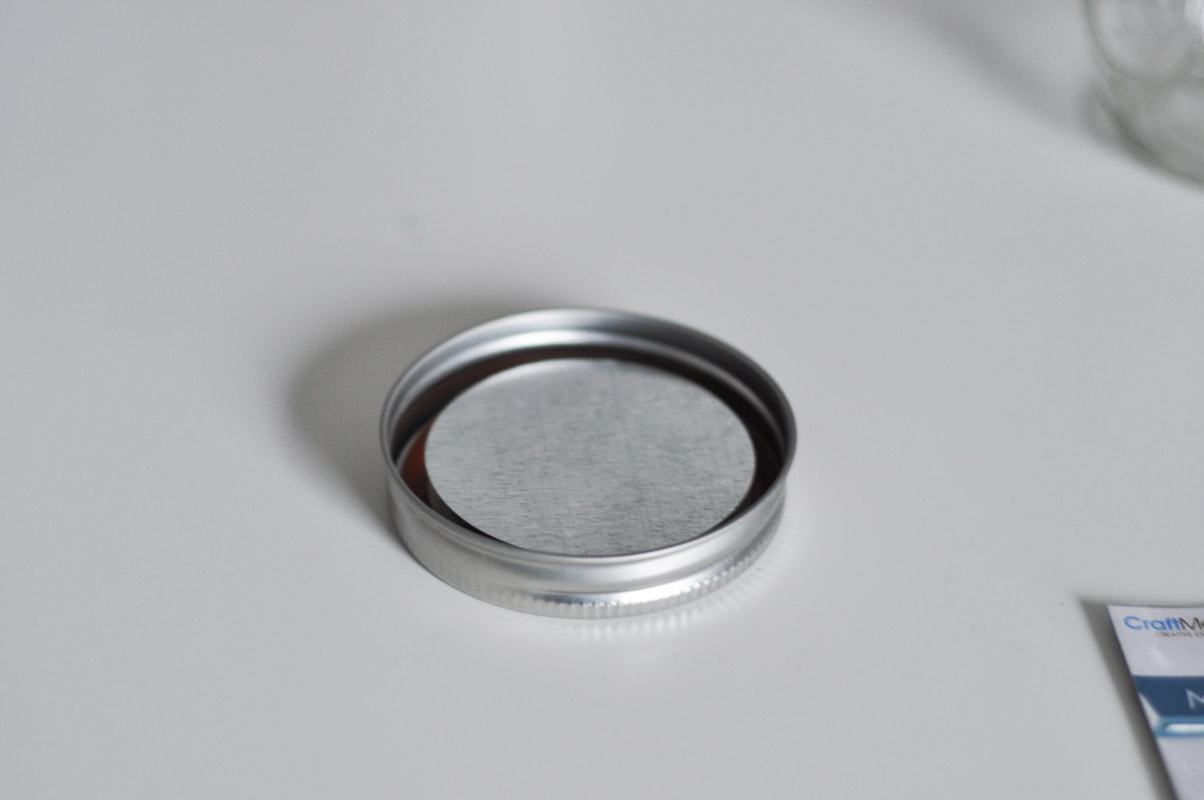 Assembly could not have been more easy. I took the metal plate (complete with magnets still on it) out of the package and them slapped it onto the underside of the mason jar lid.
I used all of the magnets as I wanted a strong enough pull to grab the pins through the mason jar lid. Because the lid is metal, the magnets hang onto it pretty tightly. No need for glue.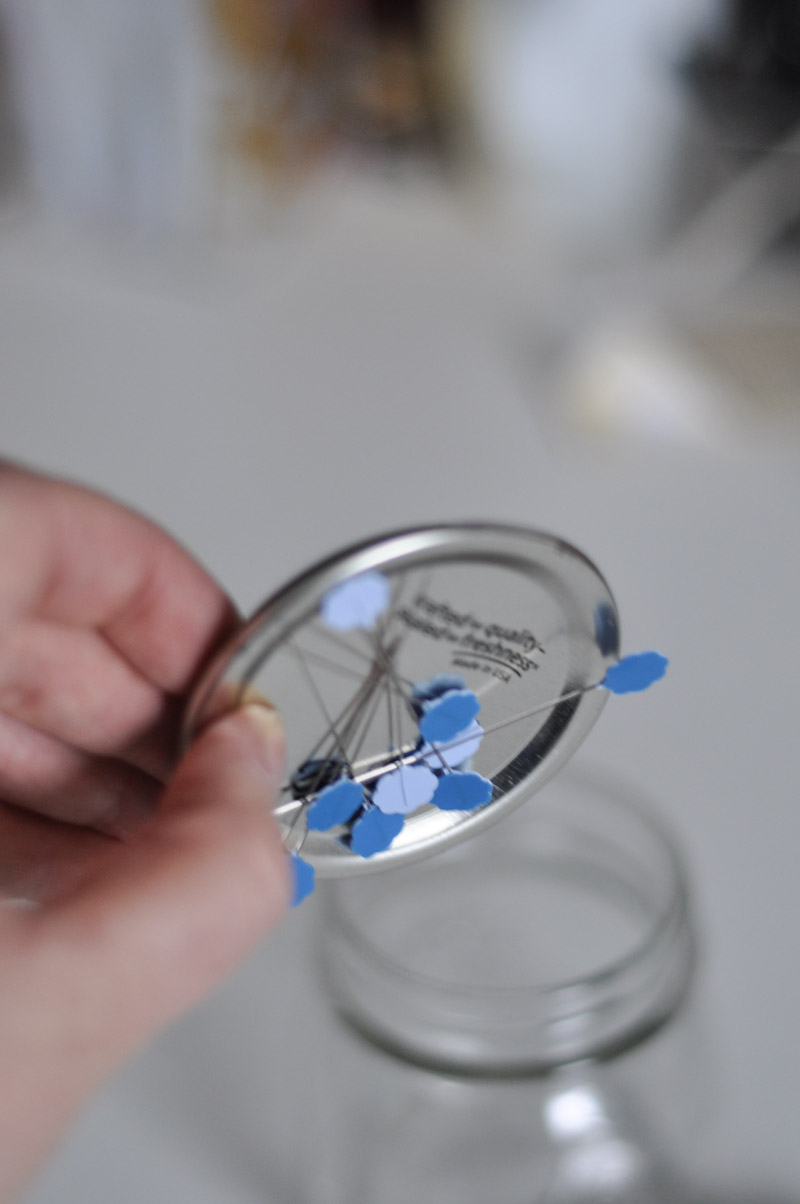 Voila. Pin holder. It took .5 of a second to make it.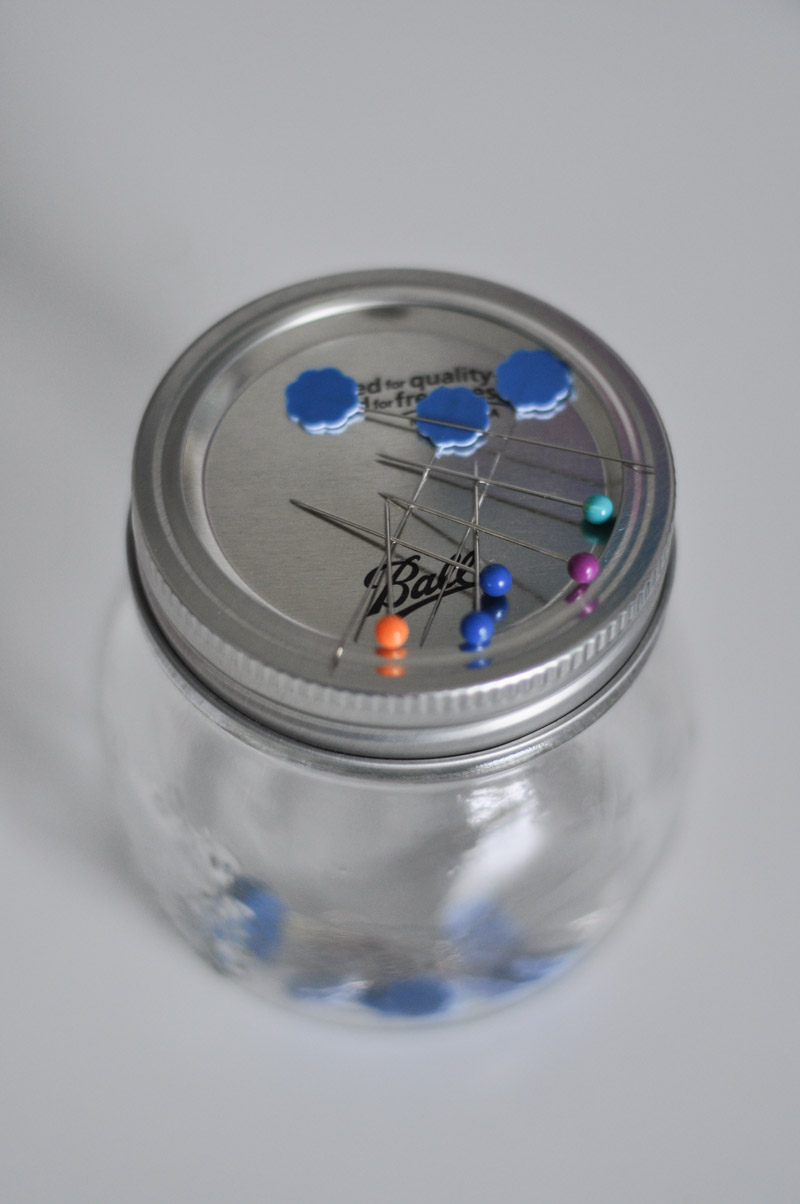 What I really like about this set-up is that you can store your pins in the jar when you're not using them. Right now, I'm using flower-head pins – which are fabulous, really, but I'm going to need more than the piddly 25 I bought at the quilting shop. Let's be real here.
So when I collect a hundred of my flower pins, I can pop them into this jar and put them away until I need them. The same could be done with basting pins, or glass head pins, or whatever pins I end up collecting on this crazy sewist-journey I've embarked on.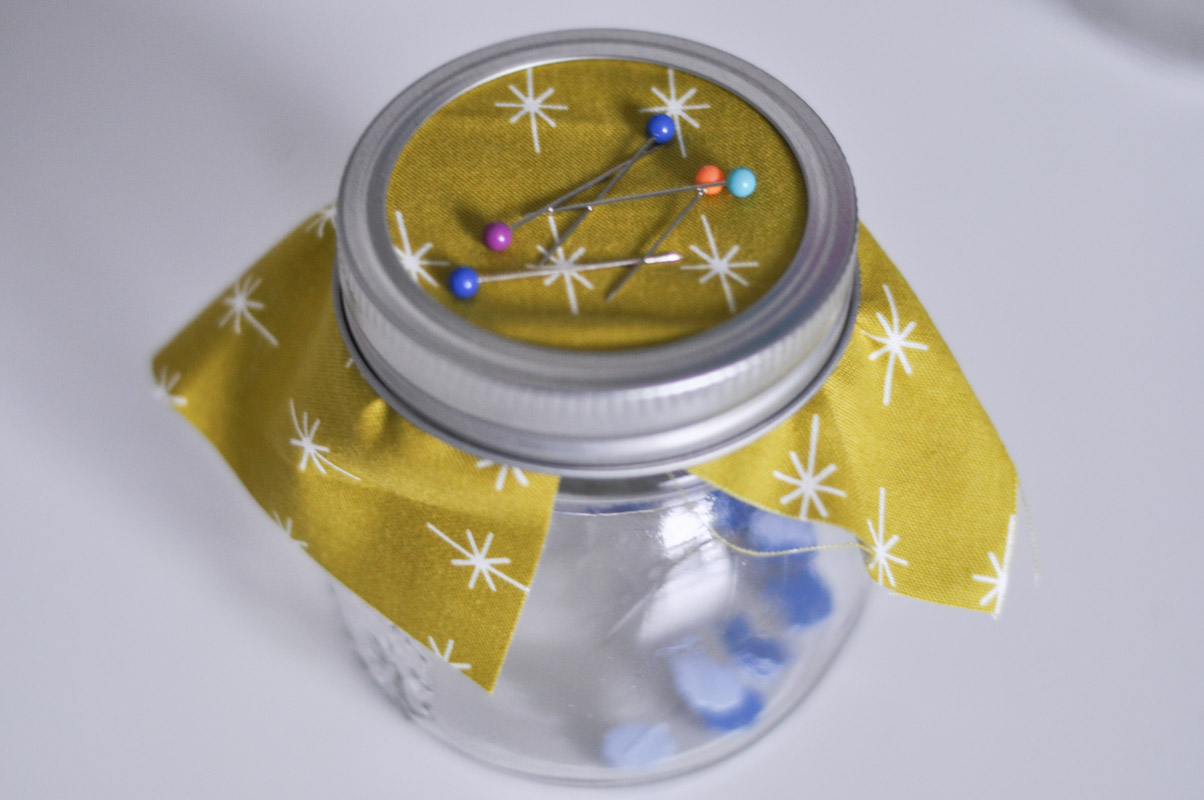 I got cute for a minute and dressed my pin jar up like an actual pot of jam – and it still worked! – but then I wondered if that my slow me down, with the fabric having the potential to be grabby.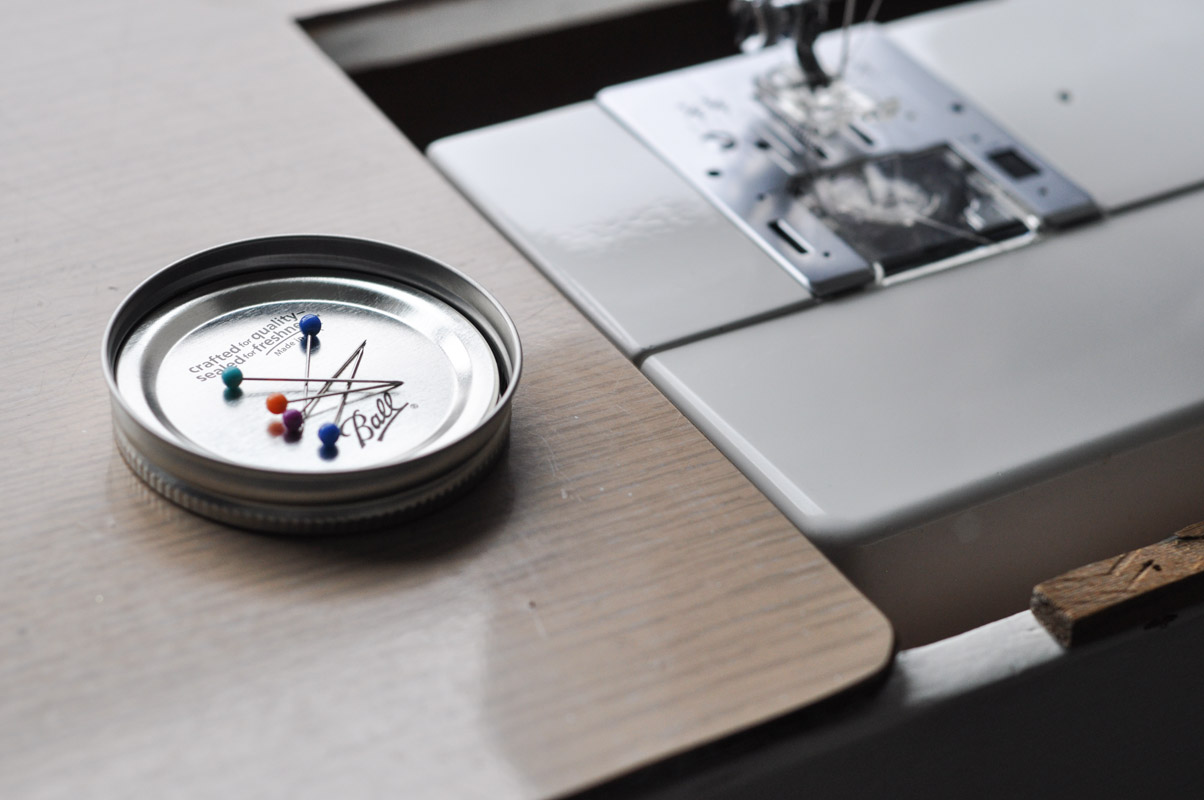 But an excellent little "hack" of the idea made sewing even easier. I flipped the mason jar ring backwards onto the lid and then kept it by my machine while I worked. It was the perfect-sized little dish for collecting my pins, and the magnets were strong enough to grab the pins as they landed near the lid.
When I was done, I put all of the pins back into the jar, and screwed on the ring.
There. A penny saved is a penny spent on cute fabrics.
That's how it goes, right?