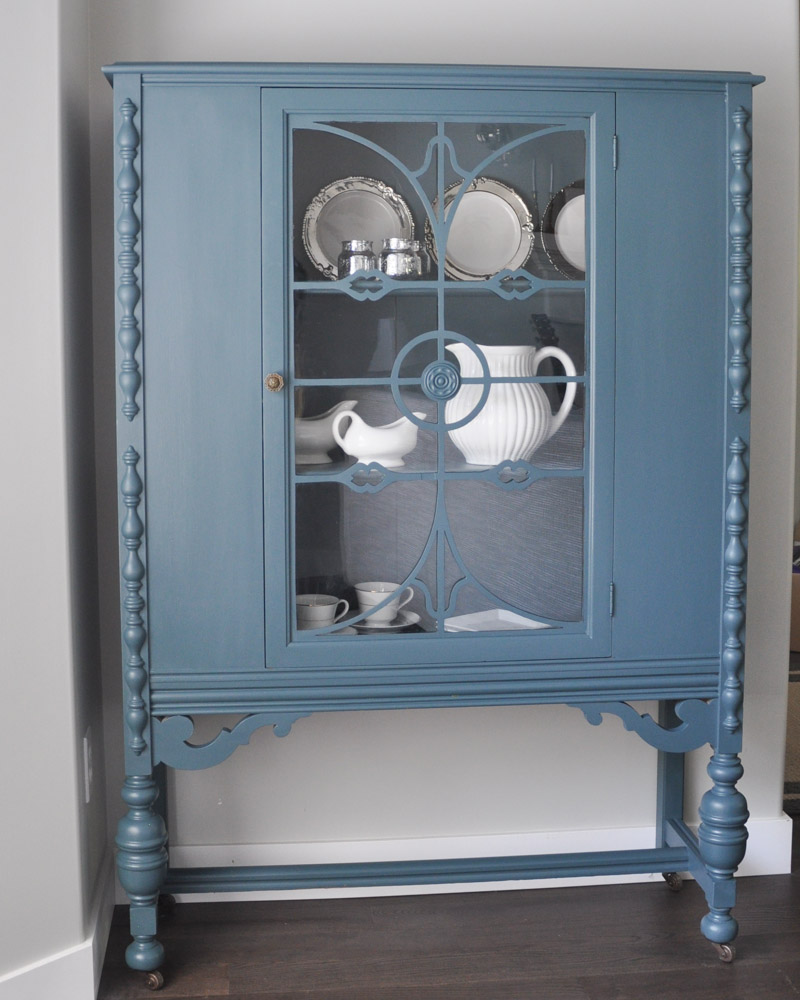 I've been on a painting kick lately. I'd say it's become an addiction: once you realize how easy it is to transform something, you want to do paint ALL THE THINGS!
Pair this need-to-paint with a great blog hop with some incredibly talented furniture-revampers and a paint giveaway, and this post has a LOT going on.
But first, let's talk about this fancy little cabinet. She is the sister of the buffet that I posted just a week ago. Remember this piece?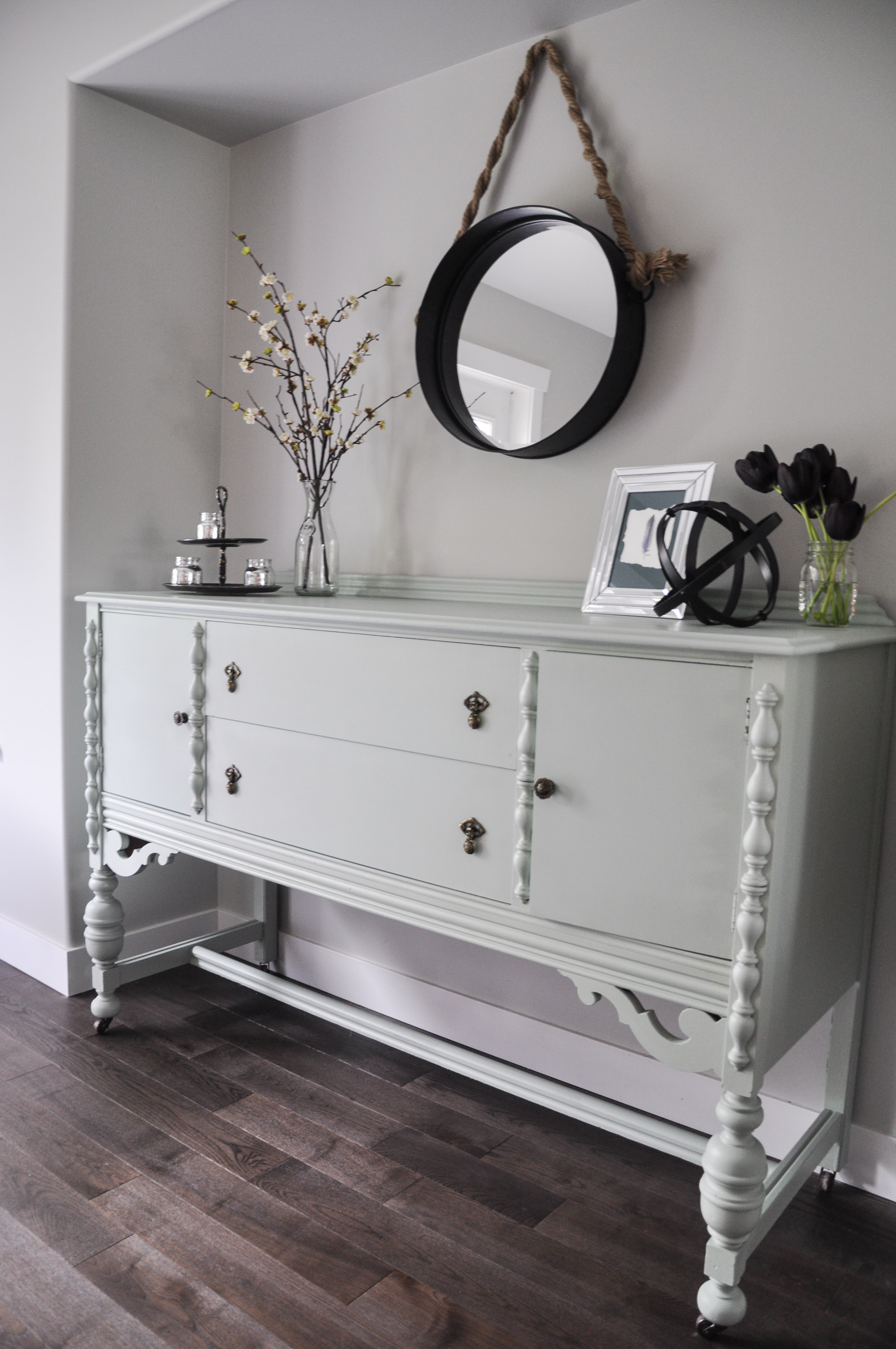 I explained how this buffet came with a whole whackload of furniture – some we needed, and some we didn't. Even though we parted with the table and chair set (something I still wonder about… was that the right decision?) – we kept the matching china cabinet.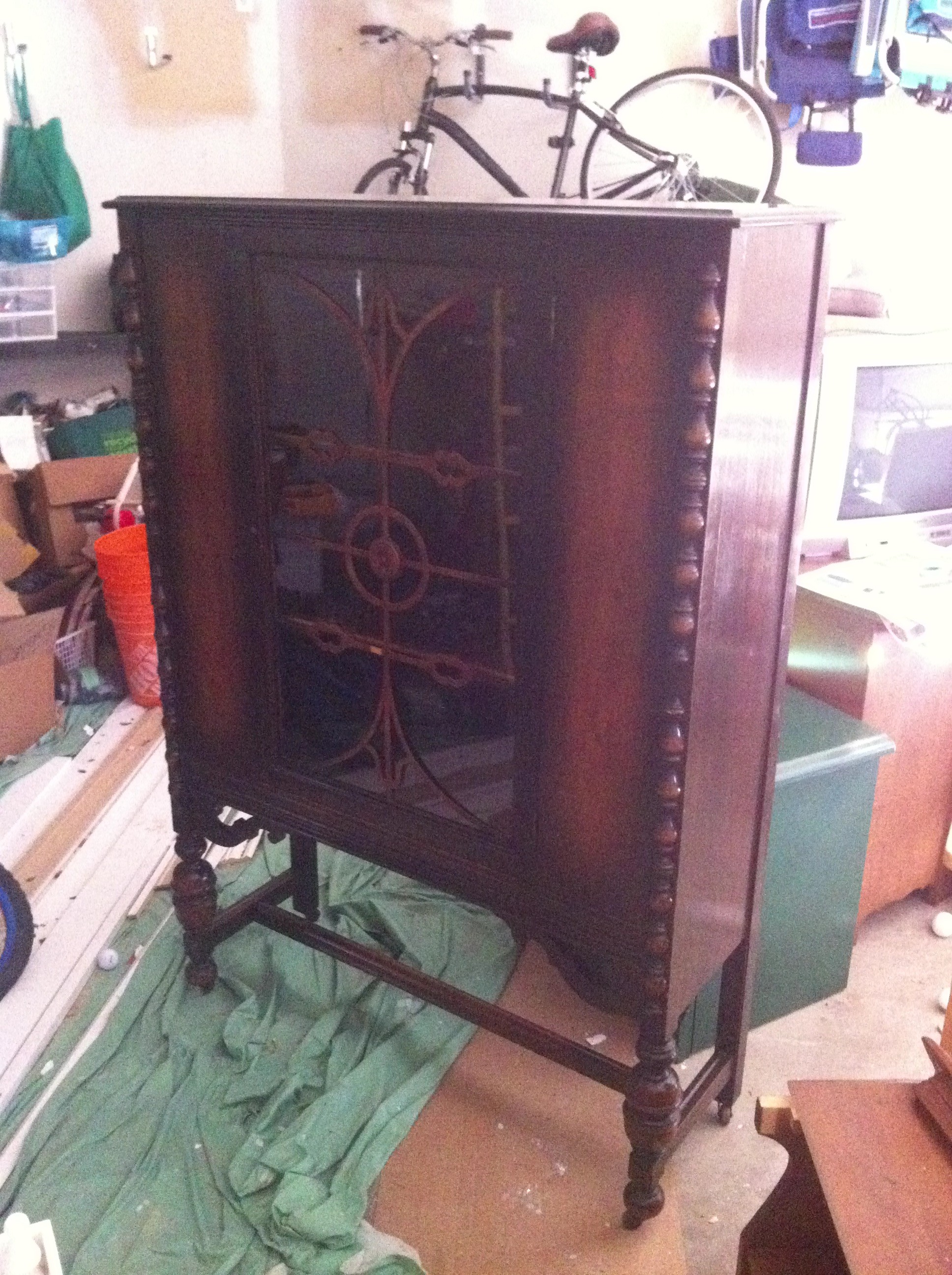 Helloooo….. gorgeous?
Maybe?
First, a big sorry for the absolutely terrible phone picture. My DSLR camera battery is unreliable at the best of times these days, so the phone came out for an emergency-"before"-photo-situation.
The cabinet had great bones. They were bones with chips and dings out of them, but nonetheless, I saw something there.
I broke out the palm sander and gave the finish a quick sanding. Typically, you don't have to prep with Fusion paint, but I wasn't sure with this particular finish. It was glossy, and I figured 15 minutes of prep was worth it. I wiped down the wood of any dust and then grabbed my paint.
I used a pint of Homestead Blue. For this piece, because I had to paint the inside of the cabinet as well, I used nearly the whole pint.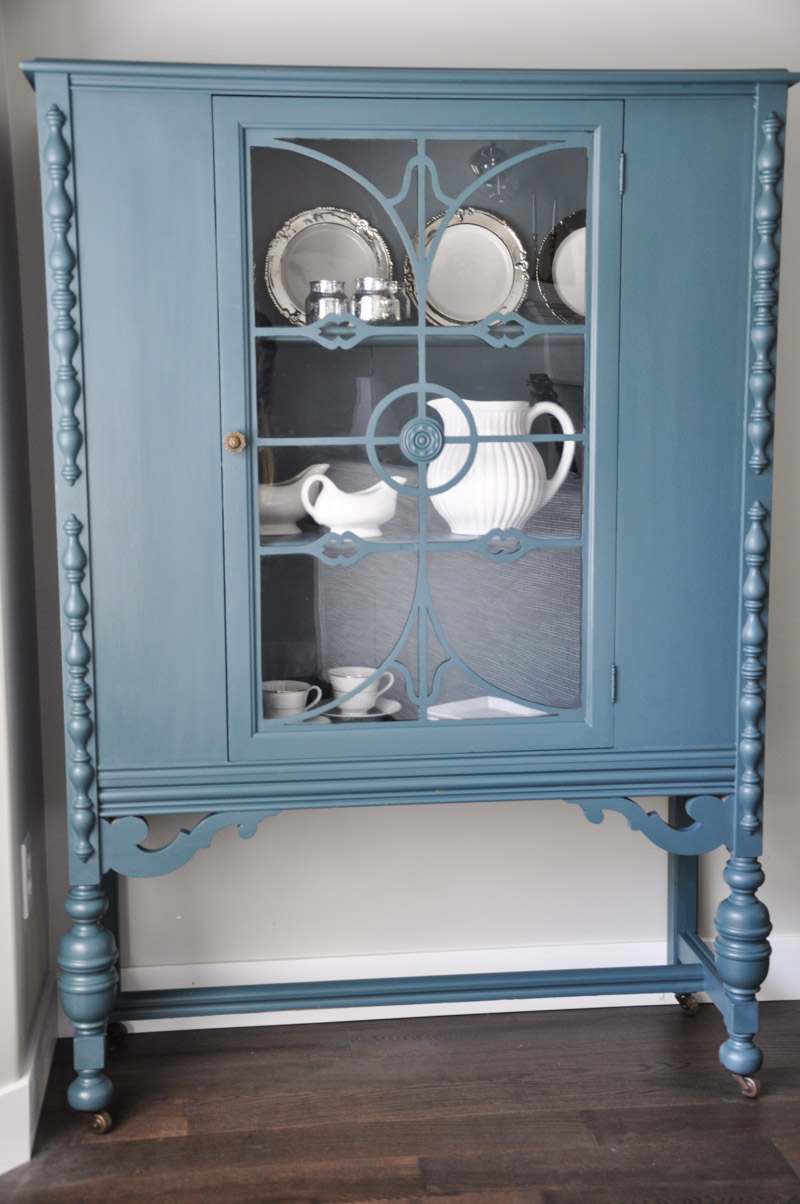 After loving the buffet in the lighter Inglenook, I had a moment of indecision at my original plan of painting this cabinet in the blue.
I worried, "Should I just paint it white and distress it? Would that be a safer choice?
It wasn't until I was reaching for the jar of paint on the shelf that I made up my mind. I wanted to be braver than that. A lick of white paint is a fail-safe choice – but it doesn't necessarily add character.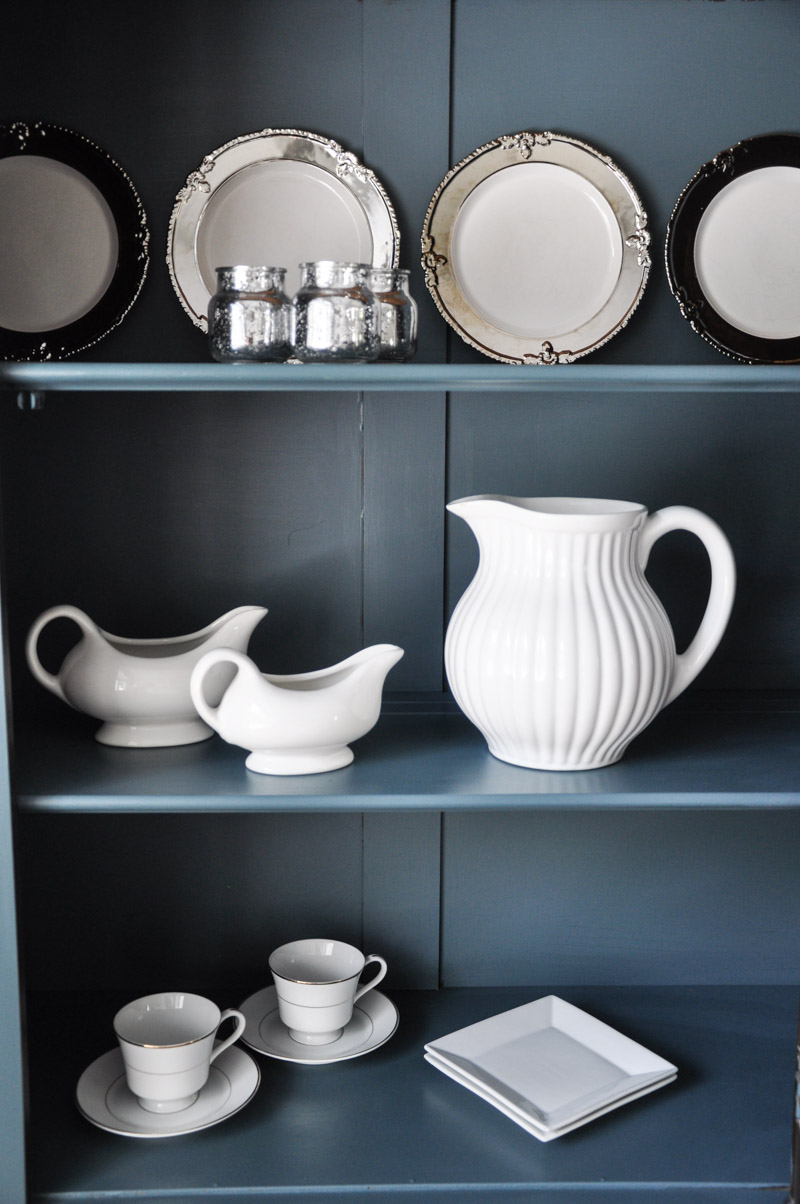 Nor does it offer amazing contrast, either.
I don't have quite the assortment of white dishware – yet! – that I would like to showcase in this cabinet. I scrounged through drawers and came up with this vignette for now. The plates with the silver border? Garage sale. Tea cups? Thrift store.
I get the feeling that I'll be on the hunt for quirky little white pitchers and bowls in my garage sale-ing this season.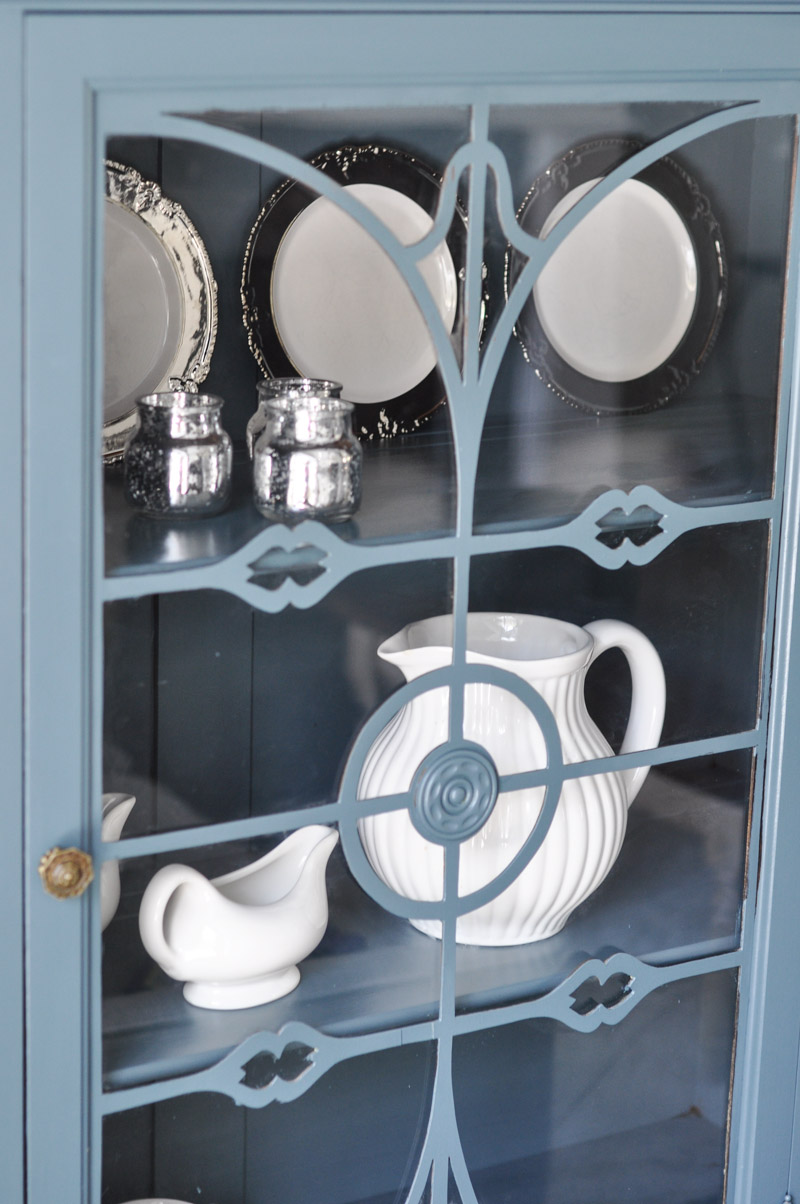 The fretwork on the door was daunting. I left it for last while I painted the other nooks and crannies. And as I brushed on the blue, I had a realization: paint and glass don't like each other.
I can scrape the paint off after it's dry!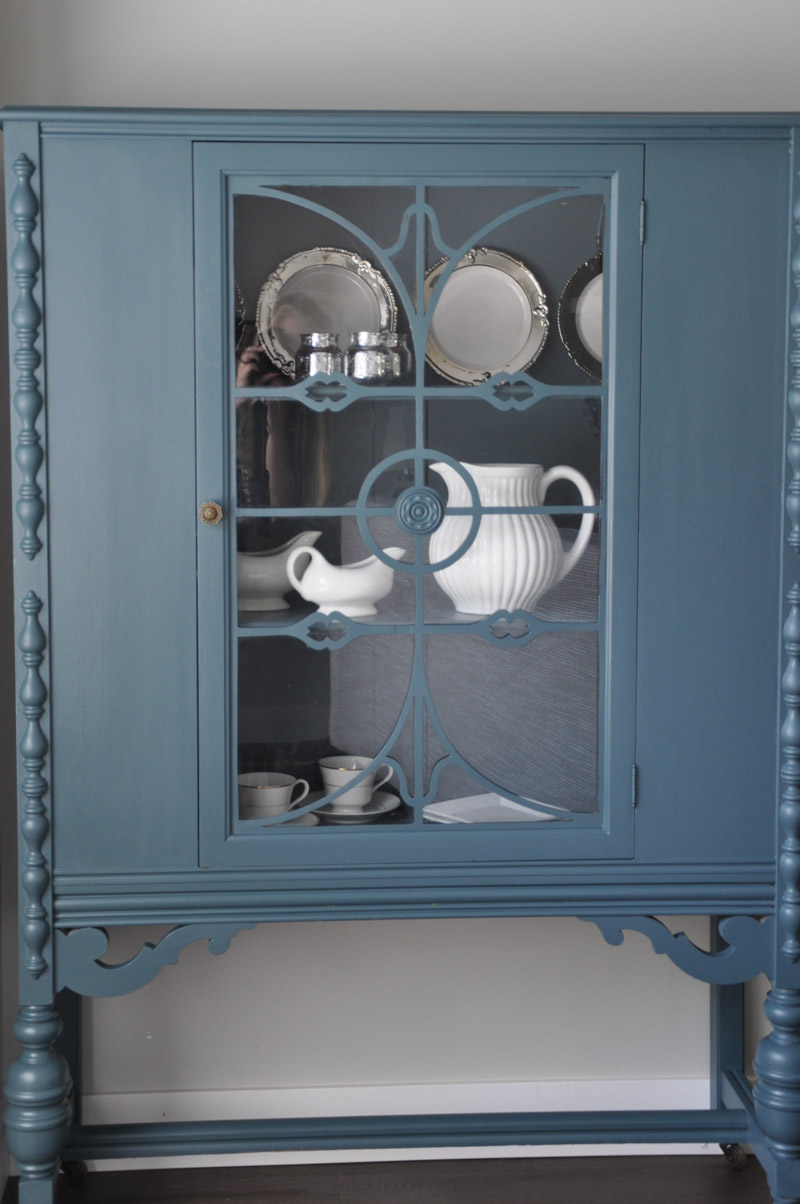 So that's what I did. I painted willy-nilly, and then once the two coats had dried overnight, I grabbed a razor and scraped off the remaining paint.
Easy-peasy.
I will admit that it was harder to get the wax residue from my top coat of Beeswax finish off of the glass than the paint! So for those of you who are staring at wood near glass, or fretwork on a window, don't worry for a second. It scrapes right off!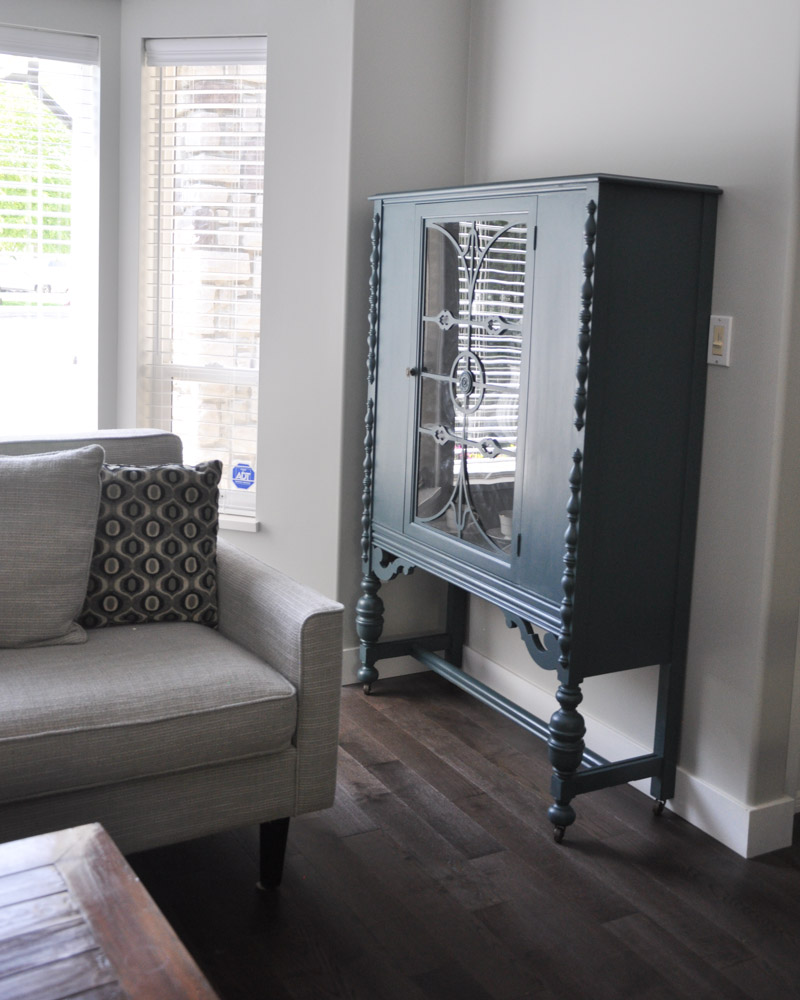 Now I just have to add some pizzaz around the china cabinet. I think it needs a basket of blankets next to it. And maybe a rustic sign over its head?
Any other ideas, my design-savvy friends?
But before you head to the comments with your staging ideas, I want to offer you a fabulous opportunity: you could win $150 of Fusion paint products!
Your piece-with-potential could realize its beauty. The colours are beautiful and the prep-work is minimal. Join me and my paint-everything! addiction.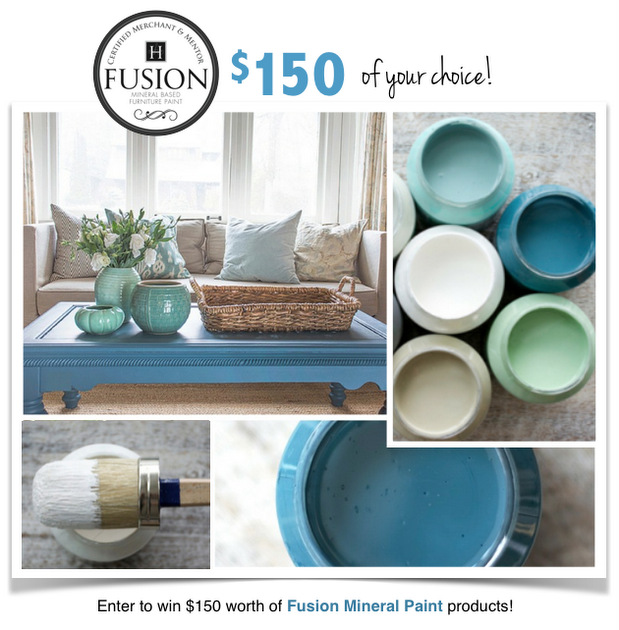 There are THREE ways to enter!
1. Visit Fusion Mineral Paint HERE and come back and leave me a comment what your favourite colour is and what you would paint with it!
2. Follow Fusion Mineral Paint on Instagram – come back and leave a comment with your Instagram handle below.
and 3. Follow Suburble on Instagram (if you already do – hooray!). Leave a comment saying you followed and your handle below.
Each blog will choose a semi-finalist from her comments and then Fusion Paint will choose a grand prize winner to walk away with $150 worth of fabulousness!
This giveaway is good worldwide. You must be over the age of 18 to win. Void where prohibited. Winner will be deemed by random draw. Winner must enter with valid email and reply within 3 days of winning email sent to you. This giveaway ends Monday, May 18th, at midnight EST. Winner will be announced in this blog post by May 20th.


Fusion Mineral Paint has been generous enough to provide me paint and supplies for my random finds and furniture bits. They make good paint and I'm thrilled to work with them!